Ibi:  Andy, pleasure to meet you, my name is Ibi and i'm from Goodlife Magazine. Andy please can you tell me a bit about yourself, where are you from?
Andy:  Thank you its also good to meet you too. I was originally born in Albania, grew up in Greece and living in the UK for the last 6 years.
Ibi:  I see this beautiful new project that you've got, a Mediterranean cuisine by the way, congrats, how did you come about it, what's your inspiration for it?
Andy:  Thank you, first of all Greek food everybody likes it, and secondly I looked at the area because I have lived the last 6 years in this area and I wanted something different, I wanted to create a friendly but modern place and like you see.
Ibi:  When I came the other day, I heard there was more than one person involved in this project, how many of you have come together?
Andy:  3 partners.
Ibi:  Are you brothers?
Andy:  We are friends. There's one that i have known for 15 years, and there's another guy I met like few years ago when I got here.  Somebody is the Builder, somebody is the Brain and and the last one has more money and we cooperated and built this project together.
Ibi:  There's nothing like teamwork. So do you have any prior experience running a cuisine, a restaurant or bar?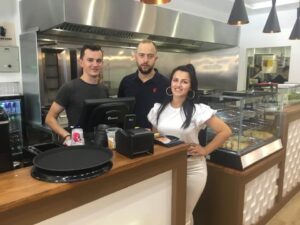 Andy: yes, I started 12 years in hospitality business and since then I have been a waiter, a supervisor, and a manager.
Ibi:  And now your finally there your own Establishment. well done, well done. So can you tell us a bit more about this restaurant, what is it like? Does it have a nightlife scene? Does it have a weekend scene? What should we be  expecting?
Andy:  The restaurant is split into elements. Morning: Food and coffee and the remaining menu displays food served from 12 _ 11:00 in the evening. Based on two elements, there is the breakfast element, we have real quality coffee. There are some patterns we make on the coffee to make it more interesting. We also have some traditional products for example Falafel, pies and and more. We also have some fish as well and some soups, lots of veggie, lots of feta
Ibi:   So in the weekends should we be expecting any programs because this is a Greek cuisine, I believe and I know that the Greeks love to dance as well and entertain. Should we be expecting any form of entertainment like that while your customers dine?
Andy:  At times, we'll have live music, singers  serenading our customers with traditional Greek music and obviously, some dance. We already have lots of requests for birthdays and parties.
Ibi:  Next lets dive into the cost of the items on your menu. How would you classify yourselves,  would you say you're expensive, or will you say you're medium or would you say you're cheap?
Andy:  We are not expensive nor are we cheap. We are sort of in the middle. As you can see our food is freshly made.
Ibi:  Excellent. And as for fast service, everything is more or less ready within a few blinks of an eye.
Andy:  Yes. Right now we just put the meat on the grill.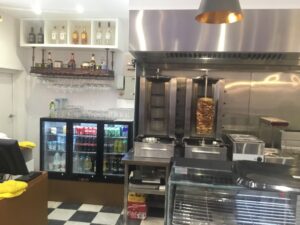 Ibi:  Are you married?
Andy: No, I'm single
Ibi: Are any of your partners married?
Andy: Yes, two of the partners is married. But one doesn't get involved in the day to day running of the business as he is a construction worker while the one that does manages the administrative side of the business.
Ibi;: So you're the only single guy laughs. That would make an interesting read for all the ladies in this area.
Andy: Smiles
Ibi:  So is there anything else you can help us shed some light on, anything else you feel we should know?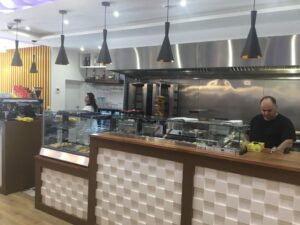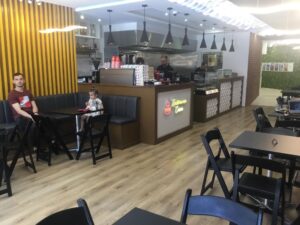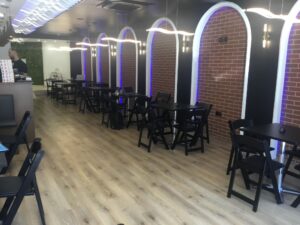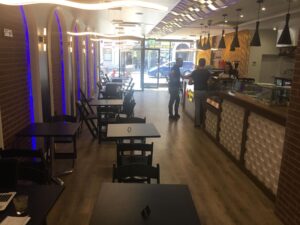 Andy:  This is place for people to dine and feel comfortable with nice relaxing music as you can hear. Food wise, the taste will put you in heaven.
Ibi:  What is the procedure In case people have allergies, what do you as regards that?
Andy:  We do regular training with our employees. We train them to ask upfront although if someone has allergies we would expect them to tell us as nobody can be responsible for a case where we are not informed. We tell everyone about the food we serve and the ingredients that are in the dishes so we can prevent any allergies.
Ibi:  I can see it has a ramp here so I get that this place also caters for disabled people.
Andy: Yes _ we cater for all types of people even if you look t our bathrooms we have one specially made up for people with special needs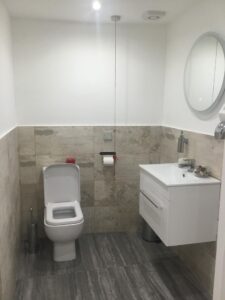 Ibi: so it's all en compassing, welcomes all people from basically all races .
Andy: All races. Hence the theme, a Mediterranean cuisine as its made up of all the different cuisines from cultures along the Mediterranean.
I've tried all kinds of cuisines and I took something from each, of the restaurants I have worked  in or visited to make up our own.
Ibi:  Coming to a close as I can see you're quite a busy person, So what will be your closing statement?
Andy:   Closing statement, that's a nice one. I like this question. My closing statement is that anybody who comes here is definitely welcome. We have happy young people working here with positive energy, nice quality food, good attitude , nice environment. So overall, we are confident you're going to have a pleasant experience.
Ibi:  One last question, will you be having any  promotions to bring people in for example the 100th customer competition?
Andy: Yes, we have a lot in store for our customers, one other thing to mention is that we have strong  and free WiFi and internet for our customers to use.
Ibi: Last question, do you have a website,  fan page, any social media presence?
Andy:  Yes we do, we have our profiles on Instagram and Facebook.
Ibi:  Andy, thank you very much for taking the time to attend to us today.
Andy: It's my pleasure,  and thank you, thanks a lot, I sincerely appreciate.
Service options: Dine-in · Curbside pickup · Delivery A 1-min walk from Hendon Central tube station Address: 4 Vivian Ave, London NW4 3YA Hours: Open ⋅ Closes 11PM Phone: 07474 776581
Interview held by: Ibi Martins
Publsihed date: 22/06/2021