Kakum National Park is situated in the coastal region of Ghana's Central Region, spanning an area of 375 square kilometers (145 square miles). While it was originally designated as a reserve back in 1931, it officially gained national park status in 1992 following an initial survey focused on avifauna. This region boasts lush tropical forest cover.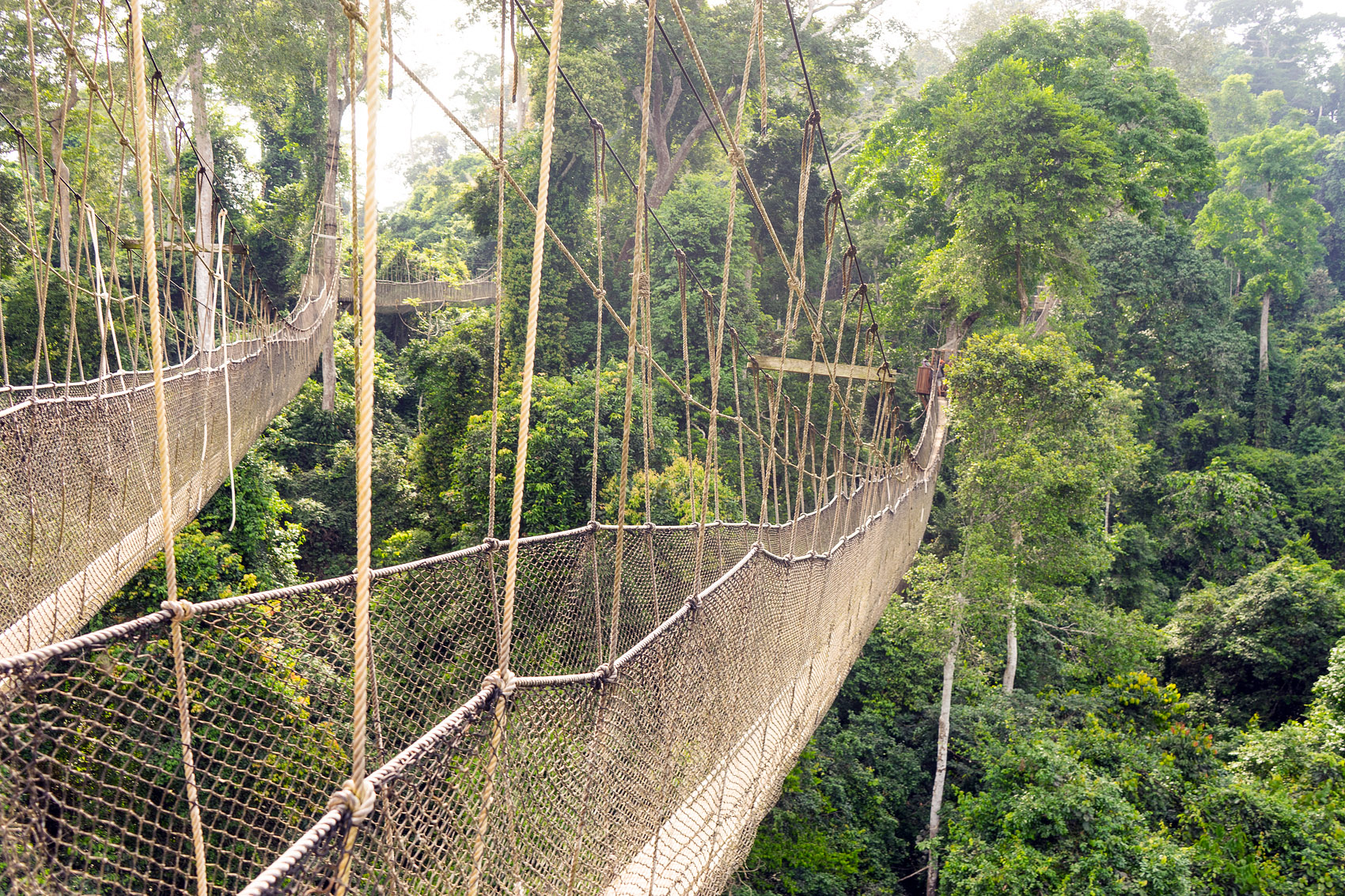 What sets Kakum National Park apart is its unique origin—it was established through the grassroots efforts of the local community rather than by the State Department of Wildlife, which typically oversees wildlife preservation in Ghana. Remarkably, it is one of just three locations in Africa to feature a canopy walkway, measuring 350 meters (1,150 feet) in length and connecting seven treetops, granting visitors access to the forest's upper reaches.
The park is home to several endangered animal species, including the Diana monkey, giant bongo antelope, yellow-backed duiker, and African elephant. It also holds the distinction of being an Important Bird Area, recognized by BirdLife International, with its bird-rich territory completely encompassing the park. Kakum's bird inventory has confirmed the presence of 266 species, including eight species of global conservation concern, such as the white-breasted guineafowl. Additionally, nine hornbill species and the grey parrot have been documented here. Notably, Kakum boasts a diverse butterfly population, with over 600 species; one new species was even discovered in 1993.
As of 2012, Kakum National Park is home to the densest population of forest elephants in Ghana. Recognizing its exceptional natural value, the Museums and Monuments Board of the Republic of Ghana has proposed that UNESCO declare Kakum as a natural World Heritage Site under criteria vii and x. This submission, made in 2000, is currently listed on the tentative List of World Heritage Sites.\
Source Pictures: Visit Ghana
Source Videos: Stella Shanelley