Obudu Cattle Ranch, nestled amidst high plateaus and mountains, boasts a remarkable feature known as the "Holy Mountain," distinguished by its highest peak. Missionaries discovered this mountain, and it has since become a place for prayer and fellowship, hence its name. The Holy Mountain also played a crucial role in history, serving as a hideout for locals during the Nigerian Civil War. Bunkers on the mountain provided refuge for people during this tumultuous period, and its single access point made it an ideal hiding place. Today, some bunkers and offering boxes still stand as reminders of this historical chapter.
The Cataract Waterfall is one of the major attractions in Obudu, easily accessible compared to other waterfalls that require a strenuous 6-hour hike. Its name, "Cataract," alludes to its long and impressive waterfall visible from the Holy Mountain. Visiting this waterfall is often considered the highlight of a trip to Obudu Cattle Ranch.
Another natural wonder in the area is the Natural Pool and Waterfall, a smaller but accessible waterfall that forms a picturesque pool at its base. While the water is stunning, it's quite cold. The pool has two stages: a smaller fall with a pool and a longer fall with a deeper pool, perfect for swimming, jumping, and diving.
Grotto is yet another waterfall with a pool, although it has been modified to create a deeper water pool. It offers an ideal setting for bonfire parties and barbecues, complete with seating areas, shade, and fireplaces for grilling. Grotto is easily accessible, thanks to well-laid-out steps, railings, and guidelines.
The Becheeve Nature Reserve and Tree Nursery, covering over 65 hectares, is a conservation forest teeming with diverse plant and animal species. Some of its trees have existed since pre-civilization times, including those that once served as food for dinosaurs. The forest reserve aims to preserve endangered plant species, and it houses a tree nursery at the entrance, maintained by the Obudu Conservation Centre.
The highlight of the Becheeve Forest Reserve is the 60-kilometer canopy walkway, providing a unique perspective on the lush surroundings.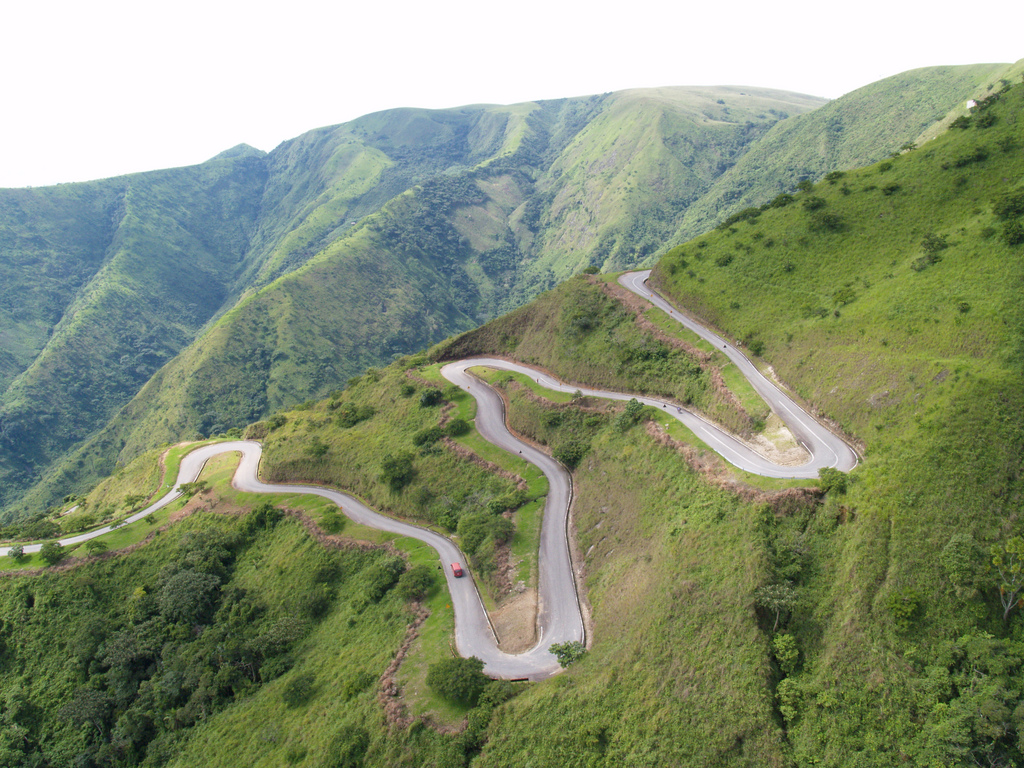 The Intestinal Road View offers a breathtaking panorama of the road network that winds its way up to Obudu Cattle Ranch. The road's zig-zag pattern is accentuated by black and white paintings on the walls, creating a striking visual. You can also glimpse the previous narrow road that was the sole access route to the ranch before the construction of new tarred roads by the Cross River State government.
Angel's View, situated between the Helipad and the Presidential Villa, offers a captivating perspective of valleys forming a "V" shape, showcasing the awe-inspiring beauty of nature.
Exploring the mountain's villages, including Banana Village and Opazanga Village, is an integral part of the Obudu experience. These villages provide insights into the local culture, traditions, customs, history, and ways of life. Banana Village is particularly known for its extensive banana plantations and the delightful, oversized, and sweet Obudu bananas. Other notable sights include a honey factory and a primary school dating back to 1954.
The Women's Woodlot Reserve is an initiative by the Obudu Conservation Centre aimed at reforesting areas damaged by factors such as cow grazing, fires, and tree felling. This reserve allows women in Obudu Cattle Ranch to obtain firewood for cooking and heating, vital necessities in a region without electricity. Approximately 90% of women and children in these communities rely on the reserve for firewood.
Source Pictures: obudumountainresort
Source Videos: Fari Elysian