Uncertainty continues to surround China's bleeding second-largest real estate developer the Evergrande Group which faces over $300 billion worth of debt and likely won't find a bailout in the form of a Beijing cash injection.
As Newsweek previously reported, the effects of an Evergrande collapse are expected to hit the businesses who work closely with it the hardest. While some major creditors could soon lose out on tens of millions of dollars in unpaid loans, many have the assets to come out of such a loss alive.
However, for the smaller businesses that have been sustained through partnerships attending to Evergrande's some 1,300 real estate properties, now could very well be the beginning of the end.
Guo Hui, a 50-year-old business owner from the city of Guangzhou, told Reuters that Evergrande owes his cleaning company $3.1 million. He said the debts have placed his business on the verge of bankruptcy, forcing him to sell his Porsche Cayenne and put his apartment on the market to make ends meet.
"We've reached out to those in charge but they either say they have no money or don't know when they can settle the payments," Guo said. "We're left in a very passive situation."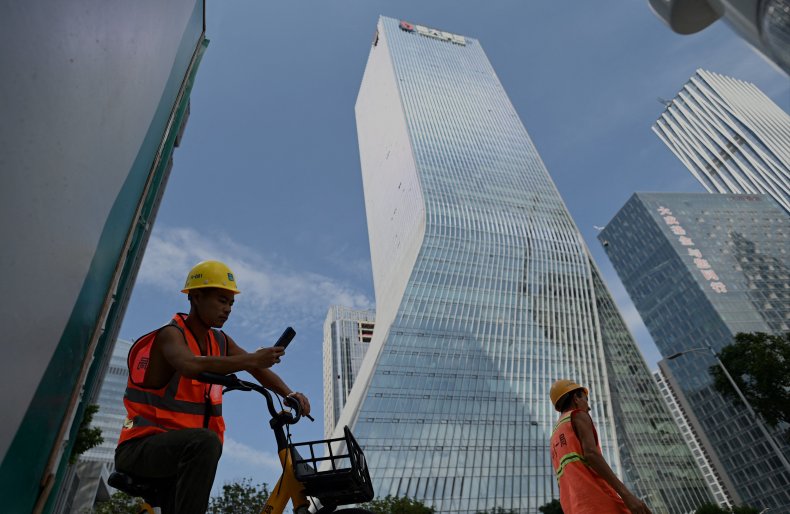 Guo started his business 20 years ago and didn't start working with Evergrande until 2017. However, since forming a partnership with Evergrande, it has become the primary focus of his company's efforts, accounting for 90 percent of the company's business, he said.
In his businesses' efforts to clean and repair Evergrande's properties in time for showing, Guo hired a permanent staff of roughly 100 and hired up to 800 contractors, many of whom are less-wealthy migrants from China's inland provinces. Guo owes them a significant sum of money.
"They worked day and night for us. I'm doing my best to pay them from loans I've taken out, but I can only manage a third or fourth of it. We still owe them about 2 million yuan (roughly $310,000)," Guo said. "Frankly, Evergrande really owes the money to ordinary migrants who worked hard for it."
Beijing requested the company focus on completing its existing construction projects and repaying individual investors, Newsweek reported earlier this week. It told the company to focus on avoiding a near-term default and pumped $18 billion into the country's banking system.
However, Beijing appears fine with letting the company fall. Last week, it was reported that the government told local agencies to prepare for an Evergrande collapse and to step in "only at the last minute" to manage the fallout. Gao remains optimistic that the country will see intervention sooner.
"No matter what, I still believe in the government," he said. "I'll definitely buy my car back when I make some money. I'm sure I'll be able to get it back."
AUTHOR:  ALEX J. ROUHANDEH
DATE PUBLISHED: September 28, 2021
SOURCE: Newsweek.com
PHOTO CREDIT: Newsweek.com