When we were creating recipes for Girl Scout Cookies (specifically these Tagalongs), we loved the cookie base so much we wanted to turn it into shortbread cookies. Hence, this creation was born.
While these vegan, gluten-free shortbread cookies are healthier than your average shortbread, they don't lack in crispy texture, butteriness, or sweet flavor. Plus, they're surprisingly easy to make — just 7 ingredients and 1 bowl required. Let us show you how it's done!
Origins of Shortbread Cookies
It's believed that shortbread originated in Scotland and was adapted from a medieval biscuit. Traditionally, it was made with 1 part sugar, 2 parts butter, and 3-4 parts flour.
Because it was expensive to make, it was considered a luxury item and reserved for occasions such as weddings, Christmas, and Hogmanay (Scottish New Year's Eve). Shortbread's popularity has since expanded around the world, and it is especially popular in the UK, Denmark, Ireland, and Sweden.
The following is our gluten-free and plant-based take on the delicious treat!
Vegan Gluten-Free Shortbread Cookies
To achieve the right texture for these cookies, we included a combination of gluten-free flours. Almond flour and our DIY gluten-free blend are light and fluffy and mild in flavor, while tapioca flour helps the cookies crisp up. Baking soda provides additional fluffiness and sea salt adds flavor.
Next, we use a pastry cutter to mix the solid coconut oil into the dry ingredients (this step could also be done in a food processor!). This creates the flaky texture that makes these cookies buttery without the butter (magic, right?).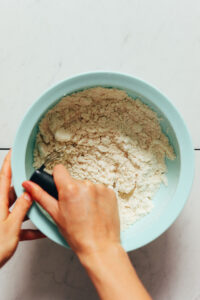 Then we add the maple syrup for sweetness and the mixture turns from a crumbly texture to a moldable, rollable dough.
The dough can be rolled into a log then chilled and sliced.
Alternatively, form the dough into a disc, roll flat, and cut with a cookie cutter (our preferred method for consistent-sized cookies and ease).
Using a cookie cutter yields cute little circles, while slicing creates a more rustic look.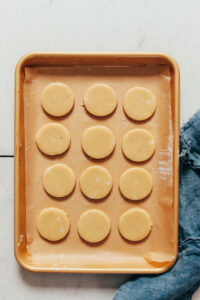 After a quick bake in the oven, they develop golden brown edges. And after cooling for a bit, they become perfectly firm and crispy for that classic shortbread snap!
We hope you LOVE these shortbread cookies! They're:
Crisp
Sweet
Balanced
Buttery
Quick & easy
& Versatile!
They're especially delicious with a glass of dairy-free milk or English breakfast tea. Enjoy as an afternoon snack, dessert, or any time a shortbread craving strikes!
AUTHOR: MINIMALIST BAKER
SOURCE: MINIMALIST BAKER
PHOTOCREDIT: MINIMALIST BAKER