As Kourtney Kardashian once said, no one can fall in love for ratings.
So, as much as Keeping Up With the Kardashians viewers might want Kourtney and Scott Disick as end game, that's simply not the case.

In an exclusive sneak peek at part two of the KUWTK reunion, airing Sunday, June 20, the exes reflect on what went wrong—and Scott's substance abuse was definitely at the heart of it. Host Andy Cohen asks whether Kourtney and Scott might still be together had Scott maintained his sobriety, and the parents of three agree that they would probably still be dating.
"Sorry, this is just so deep!" Kylie Jenner says with a nervous laugh.
Andy then asks if Scott and Kourtney have been intimate in the last five years since their split. "People cannot believe that, but we have not," Kourt confirms. "For real."
"How annoying," Scott quips.
So what is their relationship really like today?
Kourtney gushes that she and Scott are "great friends and co-parents" to Mason, Reign and Penelope, with Scott adding, "We're family. I think we always will be."
For Kourtney, the final straw in their nine-year on-again, off-again relationship was Scott's issues with sobriety. The New York native first sought treatment in 2017 and then again last year in 2020. "I mean, the infidelity, I only knew about it at the end," Kourtney explains. "So I think the substance abuse was the dealbreaker."
Andy questions if Scott's alcohol dependency led into his "bad behavior" when it came to relationships, but Scott isn't looking to label his journey. "I don't want to make any excuses for my behavior," the Talentless founder states. "I definitely wouldn't have done these things sober, but it was all wrong. I just thought it was normal, to be honest."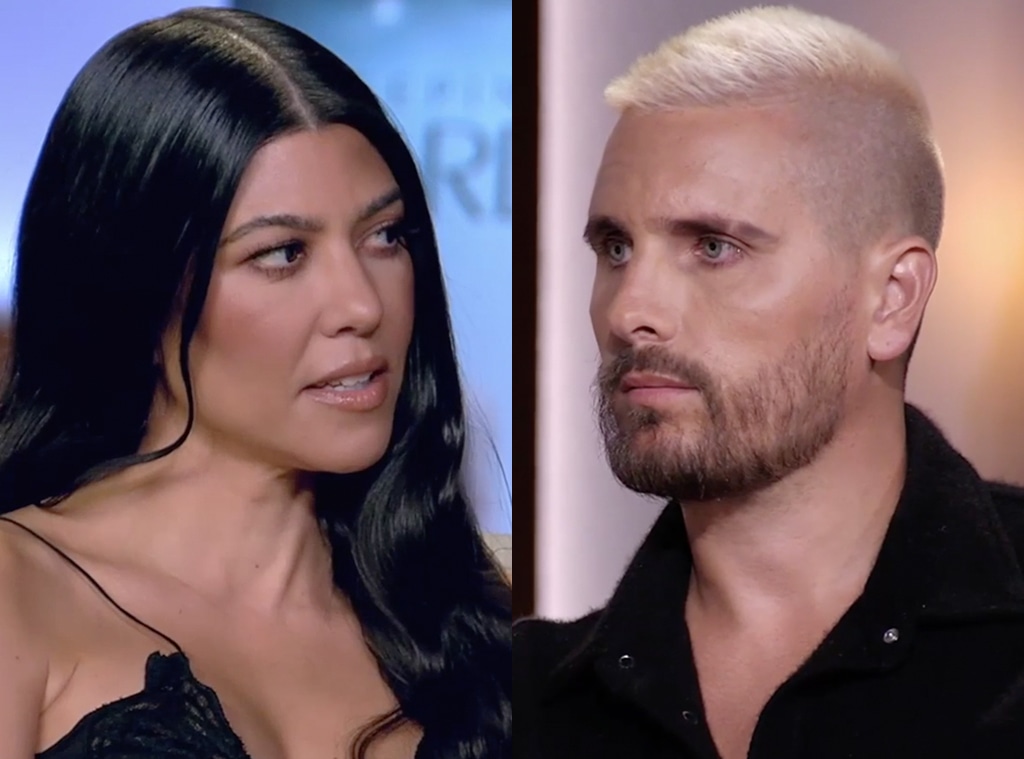 Asked if he's interested in monogamy, he reveals, "Yeah, now. But then I was somewhat young and I didn't really know the difference." Kris Jenner is quick to point out that Scott was just 23 when he began filming KUWTK. 
Yet Scott admits to feeling a certain type of way when Kourtney is seeing other men. When asked whether he gets upset or uncomfortable watching Kourtney date, Scott jokes, "Me? No, I just want to kill them."
Kourtney has been linked (and inked) to blink-182 drummer Travis Barker since December 2020, while Scott has been dating model Amelia Hamlin since November 2020.
The family clearly approves of Kourtney's new romance, but Khloe mentions that "nobody was happy" with Kourtney's most recent ex. Still, through it all, Scott had her back, revealing, "I was still there trying to help her through."
Watch the juicy reunion clips above and tune in to the KUWTK second part reunion on Sunday, June 20th at 9 p.m. on E!.
AUTHOR: SAMANTHA BERGESON
DATE PUBLISHED: June 18, 2021
SOURCE: Eonline.com
PHOTOCREDIT: Eonline.com