French Country style design has emerged from the scenic villages of the south of France to become one of the most popular styles of interior design around the world. The look is casual, inviting and fuss-free. The charm lies in the rustic feel of the furniture and accessories and the easy, cheerful combination of colors. French Country interior design can work for anyone, on any kind of budget. Keep these tips in mind to turn relaxing in your home into a daily vacation in Provence.

French Country Style Basics: Colors
Color is important in any interior design plan you have, and this is especially true of French Country style. The colors most associated with this style are soft, foamy greens, bright yellows and golds, rusty red and splashes of blues, pinks and lavender. These colors create a bright and cheery environment while allowing the natural rustic wood and wrought iron features associated with French furniture to shine through.
It is common within this style to see mixing and matching of colors and prints that might not be obvious, or might even be frowned upon in other schools of interior design. Mix a floral with a plaid – no problem.
Fabrics in French Country Style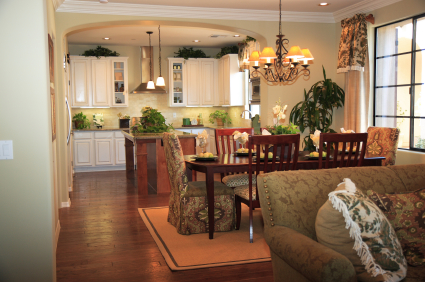 Probably the fabric most associated with French Country design is toile. Toile, which translates as "cloth" in French, is fabric with a white or beige background adorned with repeating pictures. Generally, the pictures feature a scene – a couple in a boat or a couple sitting underneath the trees are both common – but images may also include churches, street scenes and more. The colors most often used for the print are red and blue, however, you may also find green, black or even brown. Toile has become hugely popular and is widely available in a variety of price ranges. click here to read more