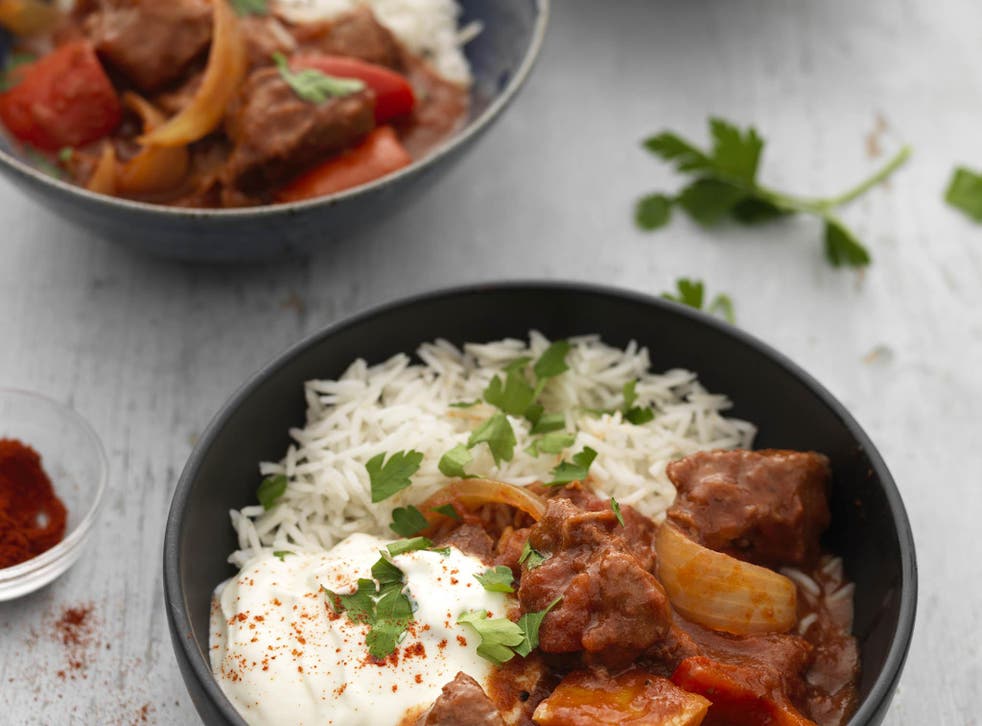 Hungarian beef goulash
Serves 6
100ml just-boiled water
1 beef stock cube
1 tbsp Marmite
2 tbsp tomato purée
​900g good-quality braising steak (ideally chuck steak)
2 medium onions
3 tbsp plain flour (25g)
2 tsp hot smoked paprika
1 tbsp paprika (not smoked)
400g can chopped tomatoes
2 red and 2 yellow peppers
Flaked sea salt
Ground black pepper
Fresh flat-leaf parsley, to garnish (optional)
Pour the just-boiled water into a small heatproof measuring jug, add the stock cube, Marmite and tomato purée and stir until dissolved, then set aside. Trim any hard fat from the beef and cut the meat into roughly 3cm chunks. Season well with salt and pepper and put in the slow cooker. Peel and finely chop the onions and add to the beef. Add the flour and both paprikas and toss together well. Stir in the tomatoes and stock mixture.
Deseed the peppers and cut into roughly 3cm chunks. Scatter on top of the meat and vegetables but do not mix. Cover with the lid and cook on high for 4-5 hours or low for 7–9 hours, or until the beef is just tender and the sauce has thickened. Stir and adjust the seasoning to taste. Garnish with freshly chopped parsley, if you like.
You can flat freeze the cooked and cooled goulash in labelled zip-seal bags or freezer-proof containers for up to 3 months. Thaw overnight in the fridge then reheat in the microwave or a large saucepan over a medium heat, stirring, until piping hot. Alternatively, reheat from frozen with an extra 200ml water over a medium-low heat until thawed. This is the perfect dish to make ahead and heat from frozen. Flat frozen in zip-seal bags, it can be reheated straight from the freezer and ready in under 20 minutes. Serve with extra vegetables or a small portion of rice and spoonfuls of soured cream (but don't forget to add the extra calories).
AUTHOR: Justine Pattison
DATE PUBLISHED: 05 February 2017
SOURCE:  Independent.co.uk
PHOTO CREDIT: Cookingperfected.com/Independent.co.uk