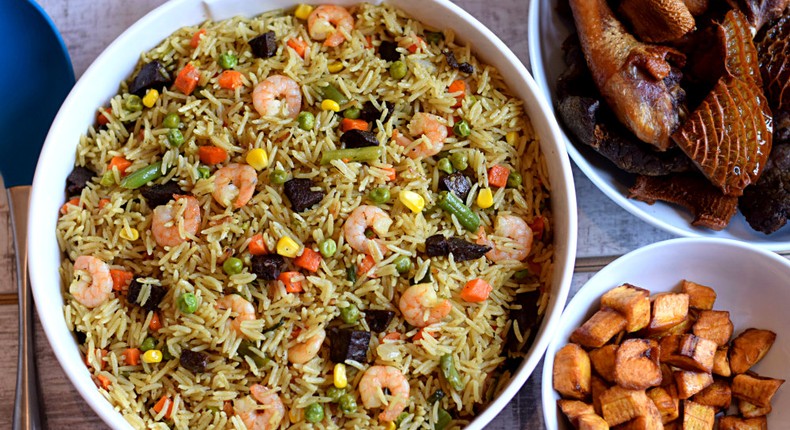 Basmati is a variety of long, slender-grained aromatic Indian rice and fried rice is an oriental dish.

Basmati fried rice is a delicious combination of cultures.
Cooking time
Recipe category
Recipe cuisine
Intercontinental
Cooking method
Recipe Yield
Ingredients
3 cups of good quality basmati rice
1/4 cup of vegetable oil
2 seasoning cubes
1 tsp salt (to taste)
2 tsp curry
1 tsp thyme
Carrot, peas, cabbage, sweetcorn (to desire)
¼ cup chopped spring onion
1 cup precooked shrimps or chopped chicken (optional)
½ teaspoons crushed red pepper/ black pepper
Instructions
Pour 2 cups of water and a little oil into a pot and bring to boil. Sprinkle in a seasoning cube, some salt, curry powder and thyme.
Wash rice until water stops being cloudy.
Reduce heat and add the rice into the pot. Allow to cook for 18-20 minutes, depending on how soft you like your rice. Turn off heat, fluff the rice with fork to separate the grains and set aside to cool.
In a big pan or pot, add remaining cooking oil, diced onions, minced garlic and ginger and saute until fragrant and translucent.
Add your red pepper and saute for about 1 minute, then add in your spring onions and mixed vegetables, and cook for 2 minutes.
Add in the shrimps/shredded chicken, some salt to taste and cooled rice.
Use wooden spoon to stir and cook for 3-5 minutes.
Your basmati fried rice is ready! Serve with plantains.
AUTHOR: ADAOBI ONYEAKAGBU
DATE PUBLISHED: January 28, 2022
SOURCE: Pulse.ng
PHOTOCREDIT: Pulse.ng/sisijemimah.com