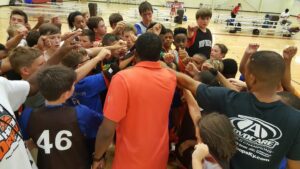 In basketball, success depends on the quality of leadership that you find on each team. I'm not just talking about the coach and the way he runs his squad — to be an effective player you must be a proficient leader. There shouldn't just be one leader on your team. In fact, every player should be a leader in their own right. At the end of the day, all truly great basketball players are great leaders, too.

Are you interested in helping your kid develop as a basketball player? Check out the youth basketball camps offered by Hoop Dreams in Lexington. These elite training camps will help your player perfect the fundamentals of offense, defense, and team play, while helping them find their role as a valuable member of a team. Sign up for our Fundamentals First, Shooting Lab, Point Guard Academy, and Elite Scoring programs or contact us to learn more about our Summer 2020 youth basketball camps!
Now, here are four ways that our youth basketball camps will help your player become a better leader.
DEVELOP FUNDAMENTALS
In basketball, leaders must be able to assist their teammates with all aspects of the game. For starters, a leader must master the fundamentals so that they can share their wisdom with their teammates. All success in basketball stems from a mastery of the basics. Every player is different, but the fundamentals are a common language that all leaders can speak. Once you are fluent in this language, you can identify where other players on your team can improve and easily show them how to do so. Our Fundamentals First camp is a great place to start if you are interested in becoming a leader on the court. If you have already taken this camp and you are ready to take your scoring skills to the next level, The Shooting Lab should be your next stop. You will receive expert instruction and engage in thousands of repetitions to develop the muscle memory that all elite shooters possess.
SHARPEN YOUR DECISION MAKING SKILLS
Being a great leader is about making the right decisions, on and off the court. Basketball is a dynamic game, and for a team to have success every player needs to be able to rely on each other to be in the right place at the right time. This means understanding the consequences of your actions and learning how to communicate with teammates. Our Point Guard Academy is a youth basketball camp built around the belief that "great players make everyone around them better." All of our drills are designed to teach players the value of teamwork and show them the importance of bringing the right attitude and work ethic to the court every day. This program will show your player how to establish themselves as a leader, on and off the floor. Register for our Summer 2020 sessions or contact us for more information.
HONE YOUR INSTINCTS
All of our youth basketball camps will help your player develop their basketball instincts so that they can focus on learning the systems required to advance into higher levels of competition. Our Elite Scoring Camp will teach your player how and when to be aggressive so that they can become a great teammate and an offensive threat every time they step onto the floor. Sharpening your basketball instincts helps you recognize the motions and tendencies of your teammates and opposing players. The better you are at this, the easier it is to make smart, effective decisions on the fly. All great leaders have elite basketball instincts that allow them to play to the strengths of their teammates and make smart adjustments to defend against the opposition.
LEARN FROM LEADERS
The best way to become a leader is to learn from one. At Hoop Dreams in Lexington, our youth basketball camps are led by a world class training staff that is dedicated to the growth and development of our players. Coach Mike Scott and his staff have been taking youth athletes and developing them into elite, competitive basketball players since 2007. Our track record speaks for itself — we boast an impressive resume of collegiate players and we've become one of the country's premier development programs. Our instructors always lead by example, and they will show your kid how to carry themselves like a leader so that they can become a better basketball player. Ready to sign up? Get in touch with us today!
Basketball is a team game that requires more than elite skill. If your player wants to reach a competitive level of play, they will need to become a leader. At Hoop Dreams in Lexington, our youth basketball camps are designed to develop your player's leadership skills so that they will always be invaluable to their team. Are you ready to get started? All of our summer 2020 youth basketball camps fill up quickly, so contact us today to lock down your spot. We will see you on the court!
AUTHOR: HOOP DREAMS
DATE PUBLISHED: MARCH 17, 2020
SOURCE: HOOPDREAMERS
PHOTOCREDIT: HOOPDREAMERS