Can Angelina Jolie feel her face when she's with The Weeknd? That's just one (of many) questions we have after the stars enjoyed a private dinner over the weekend.

Save your tears for another day—because Angelina Jolie and The Weeknd are spending more time together.
More than two months after the movie star-turned-humanitarian and singer were first romantically linked, the duo enjoyed yet another intimate dinner over the weekend. On Saturday, Sept. 25, Jolie and The Weeknd were photographed departing the same restaurant they initially dined at in July.

For their private outing at Giorgio Baldi in Santa Monica, Calif., the celebs coordinated in head-to-toe black ensembles. While Jolie, 46, wore her signature trench coat and pointed-toe heels, The Weeknd, 31, bundled up in an oversized jacket, dark denim and leather boots.
An eyewitness tells E! News that despite arriving separately, the A-listers were seated together in a "private" area of the eatery, where they enjoyed each other's company for two and a half hours.
Following the dinner, the source says Jolie and The Weeknd (née Abel Tesfaye) left in his car.

The Eternals star and "Starboy" singer have yet to publicly address the nature of their relationship, however it's likely the pair will remain mum on the topic. After all, both Jolie and The Weeknd are familiar with the perils of dating in the public eye.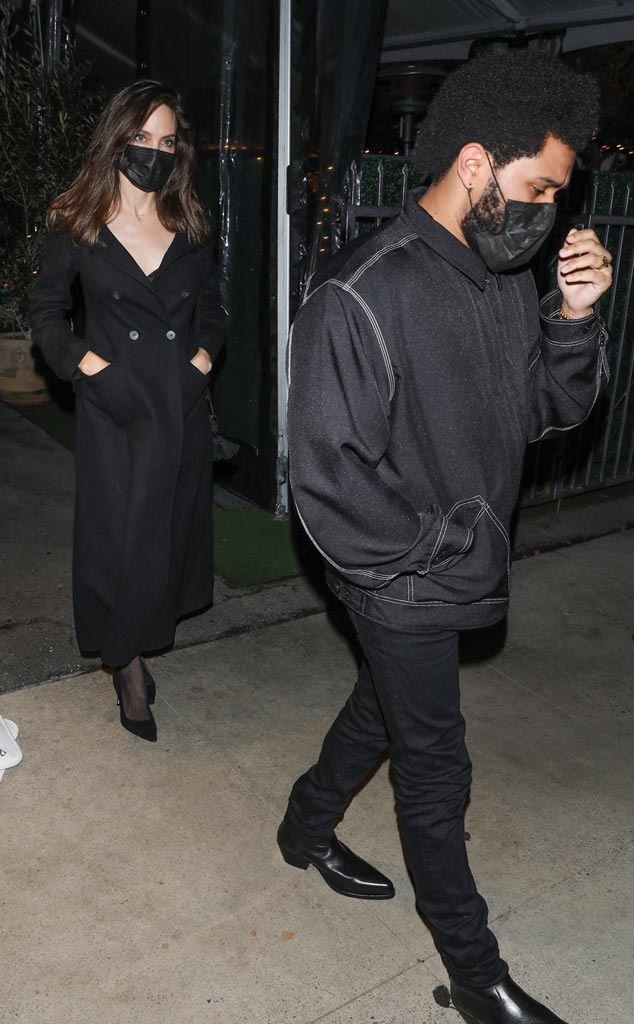 BACKGRID

Even five years after filing for divorce from Brad Pitt, Jolie is still embroiled in a tumultuous custody battle over their six children.

And after dating Selena Gomez and Bella Hadid, The Weeknd confessed to GQ in August that he's hesitant to date women who aren't famous because they're not accustomed to the spotlight.

"I do feel guilty," he explained at the time. "For sure. That's why I don't…I try not to do too much. I just try not to bring attention to myself. And I just love being in normal situations, man. It's such a great feeling. To be able to just like go on a walk and not being in a f–king SUV."

AUTHOR:  MCKENNA AIELLO
DATE PUBLISHED: September 28, 2021
SOURCE: Eonline.com
PHOTO CREDIT: Eonline.com