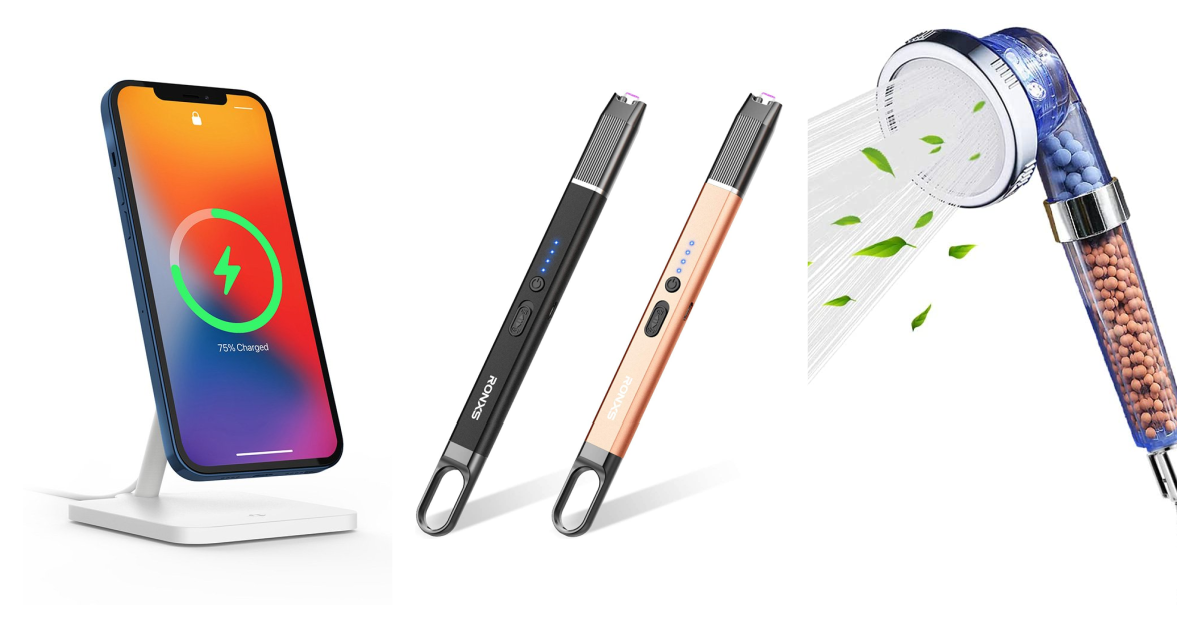 From USB lighters to a wireless charging stand for the new iPhone, these are the coolest gadgets to get in 2021.

Sometimes, the tiniest of innovations can make life all the more convenient.
Whether that's a TikTok-viral shower head that purifies and increases water pressure, a wireless charging stand for the latest iPhone model or an electric USB lighter, gadgets don't just make life easier—they can make it even cooler.
19 Impossibly Cool Gadgets
Are you a sucker for cool gadgets? Keep reading for 19 impossibly cool inventions that are smart, convenient and just plain awesome. As always, the prices listed may fluctuate over time.
1. Forté for iPhone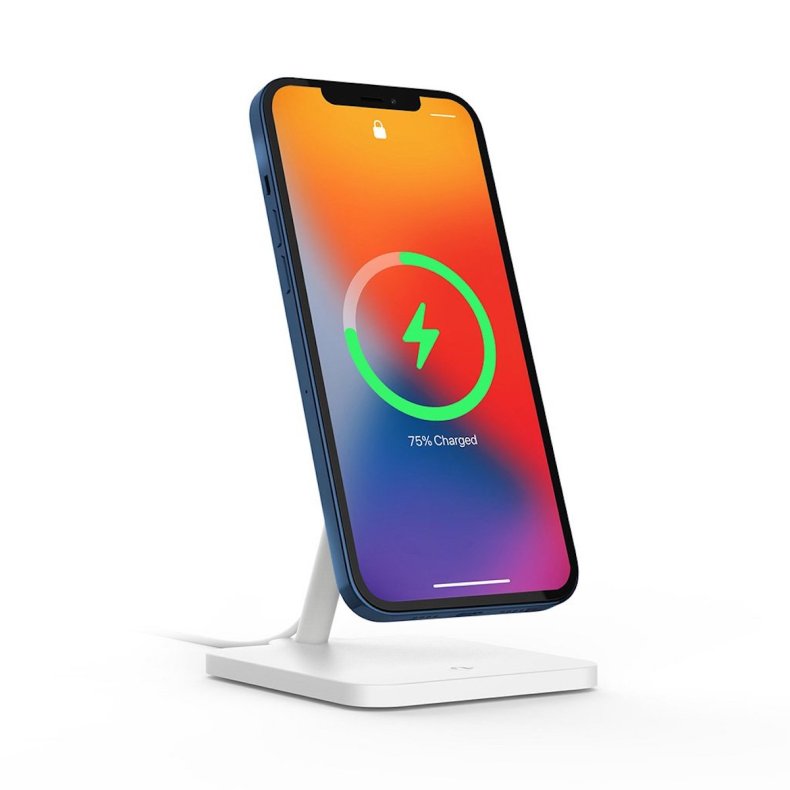 What's even more incredible than the latest model of the iPhone—iPhone 12? The Forté for iPhone is a wireless charging stand that works with the 12's Apple MagSafe Charger. The MagSafe Charger snaps into the Forté like a kind of vertical dock. While your phone is displayed upright, it's actually wirelessly charging at 15 Watts. The platform even tilts to a proper viewing angle (at 70 degrees) or can be used to charge Apple AirPods as well. It is absolutely the gadget of the year.
2. Glitter Mini Vacuum
NEWSWEEK SUBSCRIPTION OFFERS >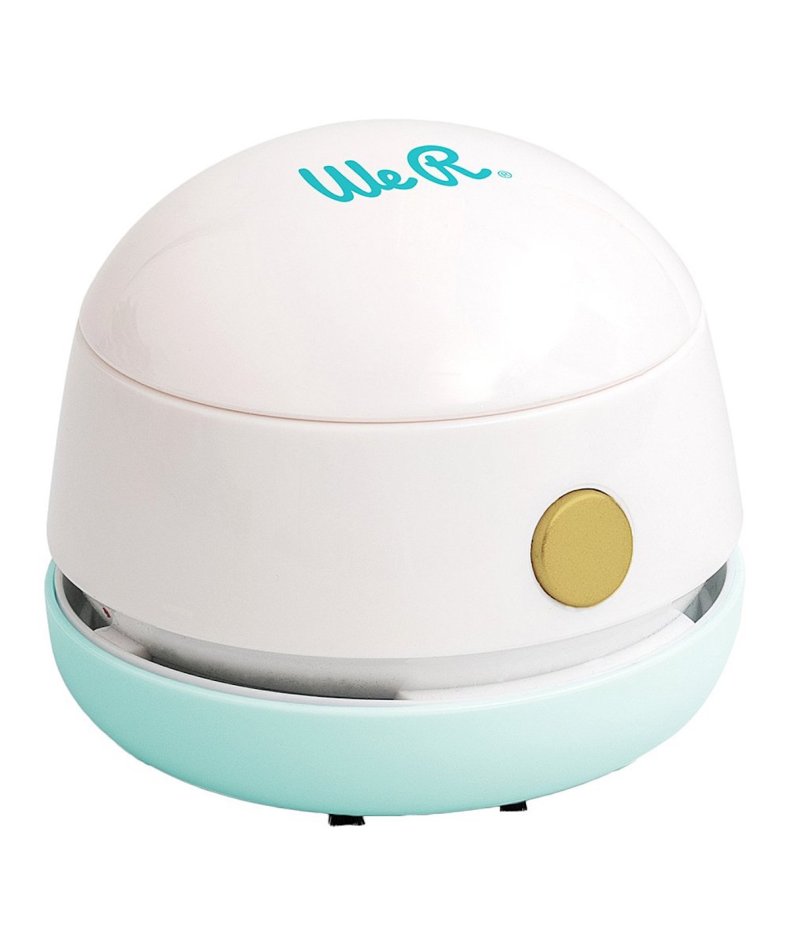 Initially, this mini vacuum was designed for crafters who needed a swift, more convenient way to clean up glitter. Thus, the Glitter Mini Vacuum was born, but thankfully, you can use it for so much more than just crafting sparkles. It's perfect for vacuuming up messes on countertops, tables, desks and really any compact space that requires special attention. It charges with a USB cord, and you can even use it in cars.
3. Original Jokari Adjustable Baggy Rack Stand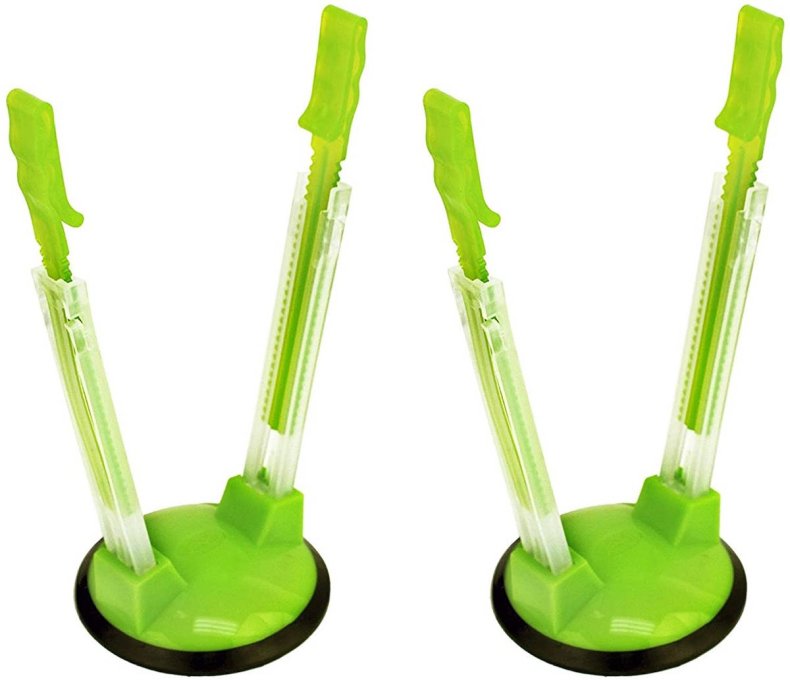 Before you rule this one out as being inconsequential, just hear us out. The Original Jokari Adjustable Baggy Rack Stand is, yes, a stand for plastic baggies, so you can better leverage the bag while you scoop food (or whatever else) inside. Even though you may be thinking, "Oh, I don't need that!" trust us when we say it's beyond convenient.
The little invention has a 4.5-star rating and more than 7,000 reviews on Amazon, with one Amazon.com reviewer writing, "I make lots of freezer meals for myself and our daughters. This was suggested to me by a friend. Most of the time, I am making multiple servings of the same recipe. Before, I would have to pour ingredients into one bag, squish the air out, seal, set aside and start over. Now, I set up however many bags I am making of the one recipe. Once the recipe is done I place the freezer meals into each hands-free baggy, remove one at a time, seal, DONE!!!!"
4. Twelve South AirFly Wireless Transmitter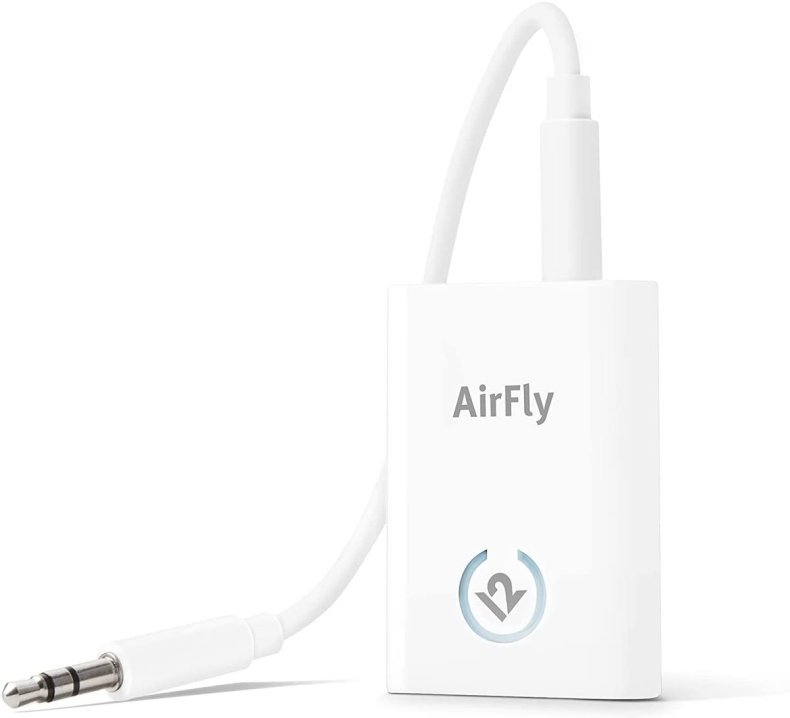 With almost 4,000 reviews on Amazon.com, the Twelve South AirFly Wireless Transmitter is a fan-favorite gadget amongst techies. This tiny little white box allows you to connect wireless headphones to wired headphone jacks with Bluetooth 4.1 technology.
One Amazon.com reviewer wrote, "These work amazingly well. I was surprised that you can charge and use them at the same time. I use them on planes to listen to the in-flight entertainment with my AirPods. I also use them to listen to music on my laptop with my AirPods. They work really well. Now, I don't have to carry my wired earbuds with me when I travel anymore. They really work as advertised. I have not had any issues with them since I started using them."
5. Press and Measure Herb Infuser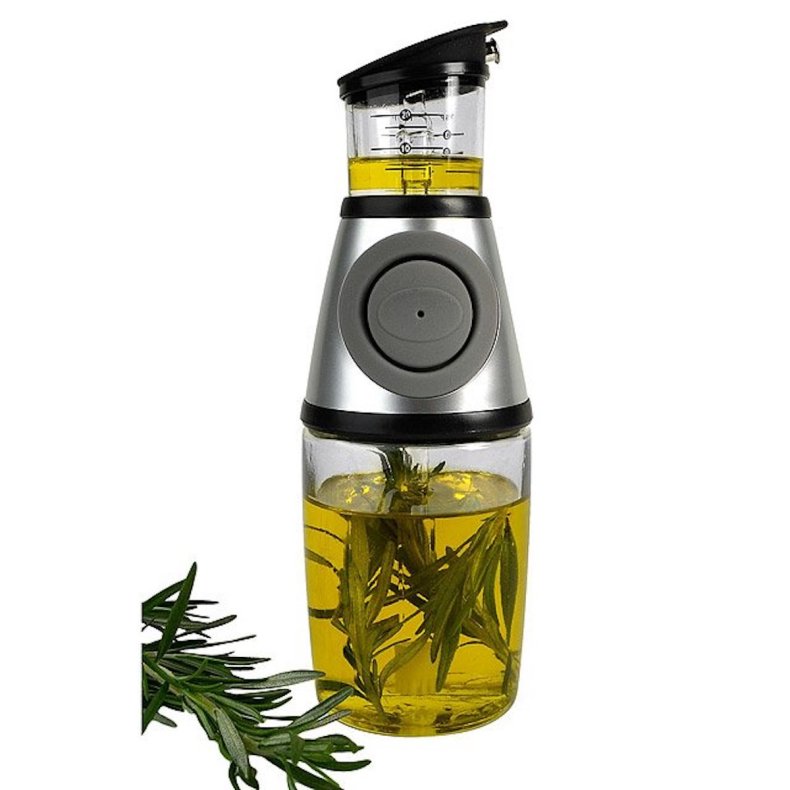 You may not think you need a Press and Measure Herb Infuser but trust us, you do—and that's kind of the whole point. This kitchen gadget makes your cooking all the tastier, no matter how talented you are around a stove. That's because the Press and Measure Herb Infuser allows amateur cooks to infuse fresh herbs and spices into their favorite extra virgin olive oil. The top part of this ingenious invention is a measuring cup of sorts (without the cup) so that you can perfectly measure down to the teaspoon how much infused oil you need.
6. Nado Care Pet Hair Remover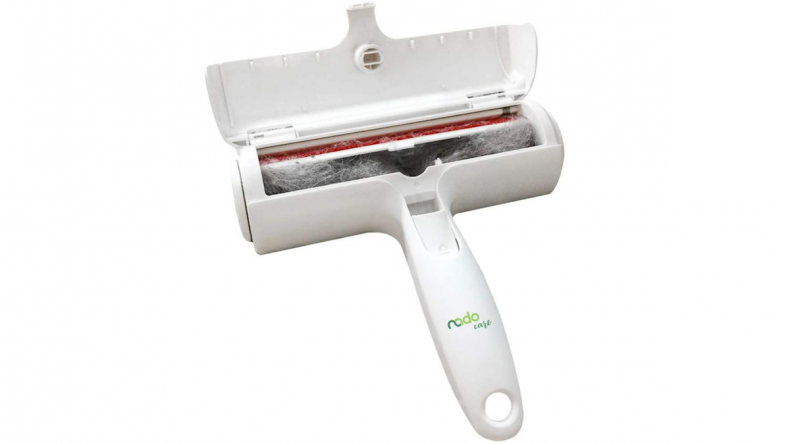 For people with pets, an effective solution for picking up pet hair is always a high priority. But as you probably know, most of those products that swear they get all the hair caked into your carpet or pushed down into the couch really don't work all that great. If you're still drowning in the aftermath of your dog's shedding, the Nado Care Pet Hair Remover is a reusable option that actually works. Without adhesive, sticky tape or even a power source, this hair remover tool runs back and forth across your furniture and clothes to pick up any hair.
This tool has a 4.5-star rating and more than 4,400 reviews, with one Amazon.com reviewer writing, "You guys! This is the BEST thing since sliced bread, for pet hair removal. It was worth every penny! It's so easy to use, and you don't have to stop and clean it before you finish one area, which is so nice!"
7. Ronxs Electric Lighter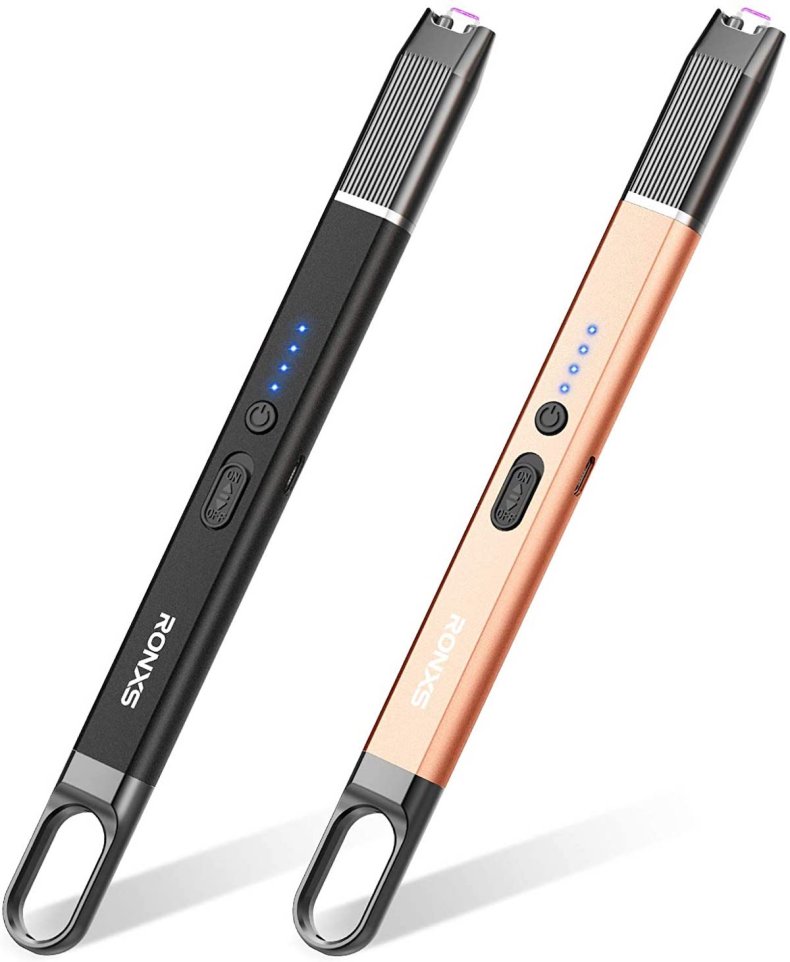 No doubt you've seen electric USB lighters all over TikTok. People are going ga-ga over these things, and we particularly love the Ronxs Electric Lighter, which comes in a two-pack of one champagne and one black lighter. These lighters—which have a 4.6-star rating on Amazon.com—don't require any flame or butane to light a candle. Simply hit the on/off safety button and watch the flame almost magically appear. Because it's rechargeable, you'll never have to throw out or buy a new lighter ever again. These nifty gadgets charge via USB—making your life 100 times more convenient!
One Amazon.com reviewer wrote, "Go ahead and buy this one. This was the first electric lighter I've purchased and I wish I'd purchased and tried them sooner! I'd always just hunted around the house for matches or lighters and even tried (with not great results to refill lighters). That's all in the past now."
8. Conair Battery Operated Fabric Defuzzer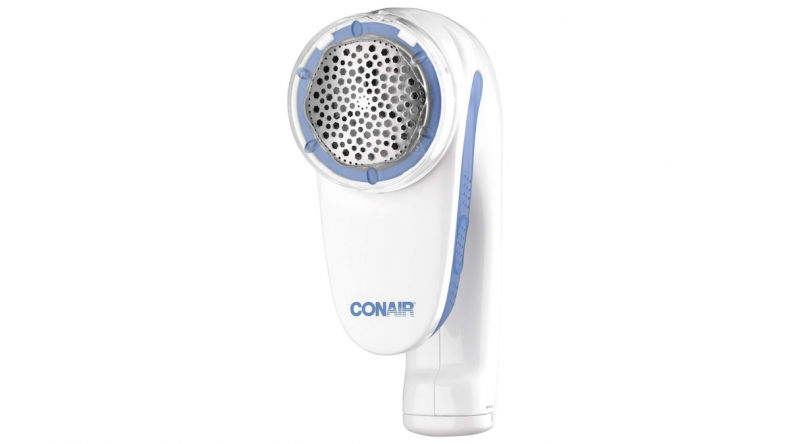 We all know that crappy feeling when we realize our clothes have gotten all fuzzy in the wash. Previously, there was no coming back from that yucky pilling that sometimes happens, but now, the Conair Battery Operated Fabric Defuzzer is the perfect solution in gadget form. A 4.5-star rating and nearly 75,000 ratings make clear that this defuzzer is the real deal. Battery operated and available in six different colors, the Conair Battery Operated Fabric Defuzzer shaves your fabric to remove pills, broken and matted fibers and lint, then automatically separates them into a removable lint catcher for easy disposable. It's also compact enough to take on the go, making it super convenient for travel, weddings and any emergency pilling situations that may happen away from home.
One Amazon.com reviewer wrote, "I can't stop depilling. Not only is my duvet cover basically brand new, but I have found a new hobby. I'm depilling everything. Sweatshirts, leggings, blankets, socks, anything that looks like it needs some love. It does the job quickly and leaves everything looking fresh. I've started asking if my neighbors need anything depilled. I'm going to buy one of these for everyone in my life. Everyone needs to own this. Take it away from me."
9. Clear Shower XL Rainfall Shower Head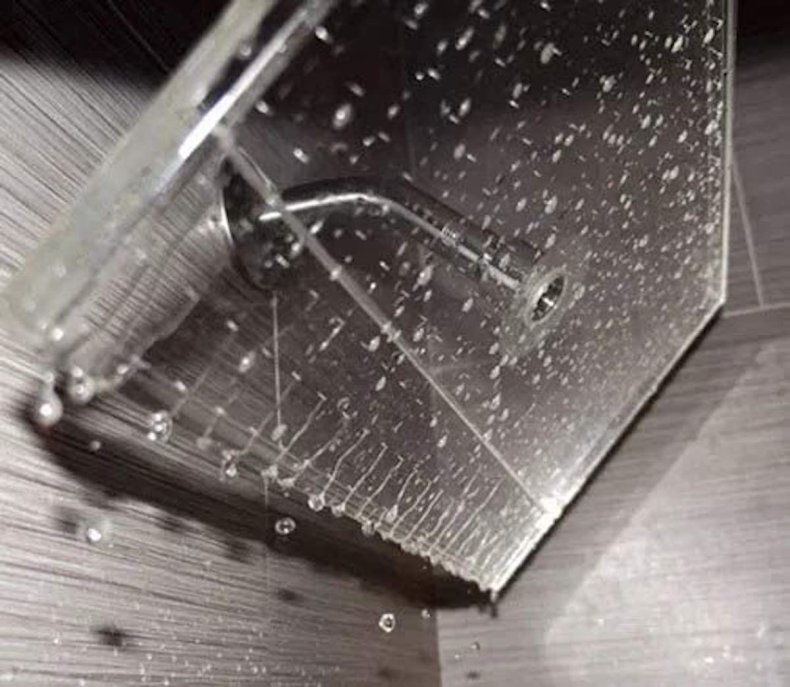 Another TikTok favorite, the Clear Shower XL Rainfall Shower Head, transforms your bathroom into a spa with just a quick installation. This showerhead is made of acrylic glass in the shape of a rectangle to provide wide coverage and high pressure designed to mimic that of a waterfall.
One Amazon.com reviewer wrote, "We did a bathroom remodel and got this shower head as part of that process. It went on easily and provides a wonderful shower experience. The water pressure and coverage were perfect. It looks great and provides a spa-like experience. Truly worth the money."
10. Kitchy Pizza Cutter Wheel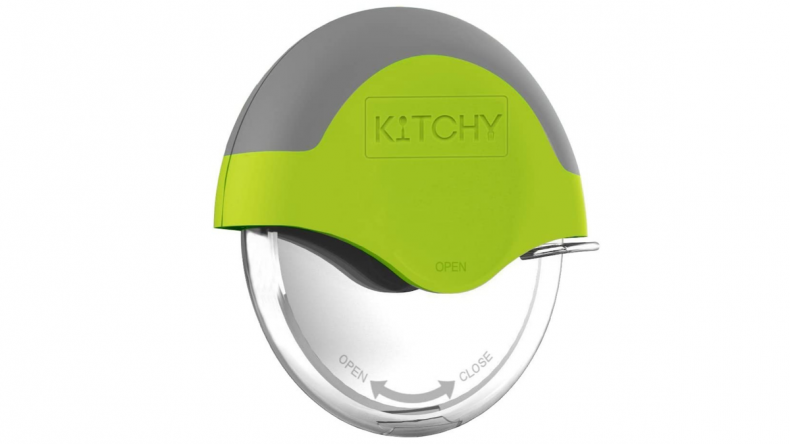 You know how most amateur pizza cutters just like, absolutely suck? Yeah, not this one. This is the real deal. Worthy of a professional pizzeria, the Kitchy Pizza Cutter Wheel has earned itself a whopping 4.7 stars and more than 26,000 ratings for its easy-to-cut sliceability. It features an ergonomic handle, fits right in the palm of your hand and is sharp enough to cut through even the thickest of Sicilian pie. And it's safe, too—there's a protective blade guard, plus, it's small, so it stores away easily. If you need to give it a thorough cleaning, it disassembles part by part and is dishwasher safe.
One Amazon.com reviewer wrote, "I used to work for Dominos and Pizza Hut in my college days and cut many many pizzas. So, I feel that I know a bit more about pizza cutter wheel than laypeople. First, it cut really well. Second, handling was easy. Grabbing one half of the wheel seems to be stabler than holding onto a handle that protrudes out. Simple physics really. And third: How do you wash this thing? Turns out, the plastic handle splits in half. I put all the pieces in the dishwasher and voila!"
11. Wali AMM002-B Outlet Wall Mount Stand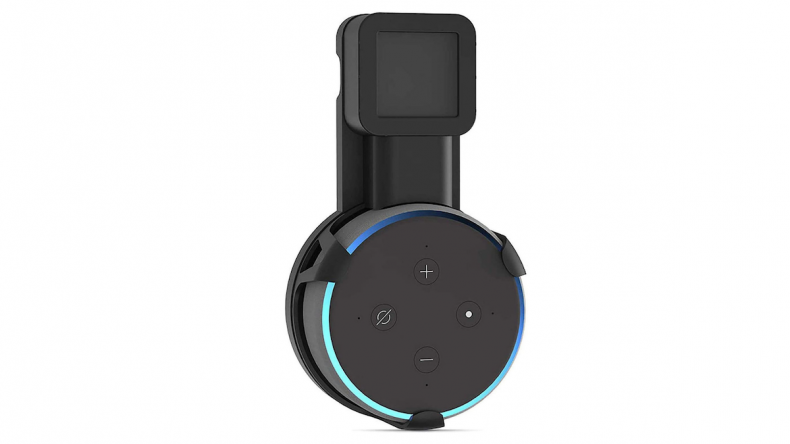 We all love our Amazon Alexas, but man, can they be eyesores! Their cords can look ugly or get in the way, and sometimes, there's just not enough countertop space to go around. The Wali AMM002-B Outlet Wall Mount Stand, compatible with Alexas and other smart home speakers and voice assistants, cleans it all up by wrangling the cord and plugging it into the wall for a sleeker appearance.
With a 4.7-star rating and more than 3,000 reviews, one Amazon.com reviewer wrote, "What can I say pictures speak 1000 words! This little gadget is great and a must if you have an Echo Dot it makes it so easy to hide the cords and not have them hanging all over and a tripping hazard, not to mention you can easily unplug the unit to move it to another location too."
12. Makerstep Over the Sink Colander Strainer Basket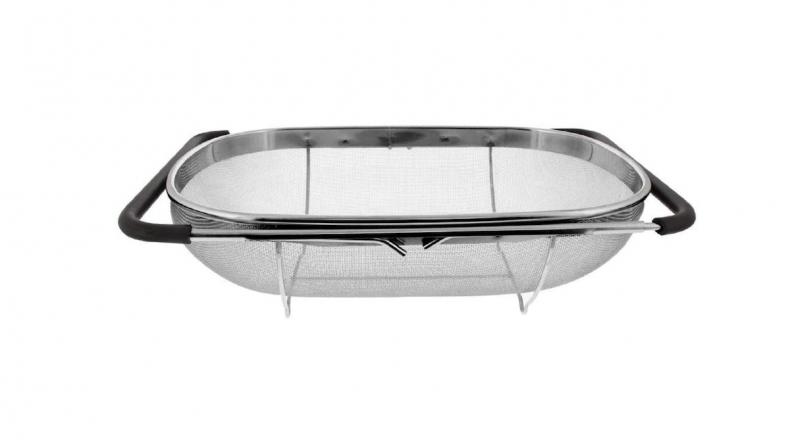 While the initial invention of the colander was genius, the Makerstep Over the Sink Colander Strainer Basket takes convenience to the next level. An actual basket, it situates over the sink, holding itself upright, so you don't have to juggle the colander and the boiling hot pot of pasta.
It has 4.7 stars and more than 5,000 reviews, with customers most notably loving its sturdiness, quality and usability. One Amazon.com reviewer wrote, "I bought this for my mom because when she makes yogurt she strains it to make Greek yogurt. Works amazingly well to hold draining bags over a bowl. A++++."
13. Apple AirTag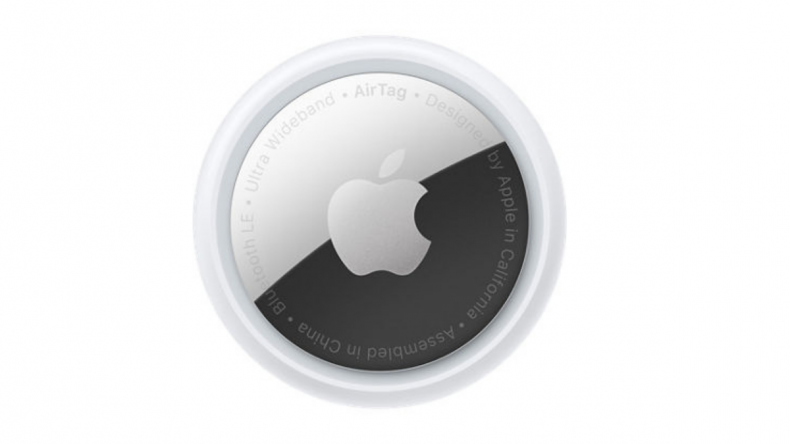 If you've ever used your Apple Smart Watch to ping the location of your phone, or if you've ever heavily relied on the Find My app, you're about to obsess over the Apple AirTag. Very similar in concept, the Apple AirTag uses Bluetooth technology to keep track of just about anything—phone, wallet, keys, backpack, AirPods, luggage, etc.
You can even activate it with Siri; just say, "Hey, Siri, find my wallet" or whatever item you've outfitted with AirTag. This nifty little thing then uses Precision Finding to track your item. If it's much further away, it connects to hundreds of millions of other Apple devices on the Find My network to locate it accurately.
Welcome to the future!
14. Luxsego Shower Head with Replacement Hose and Bracket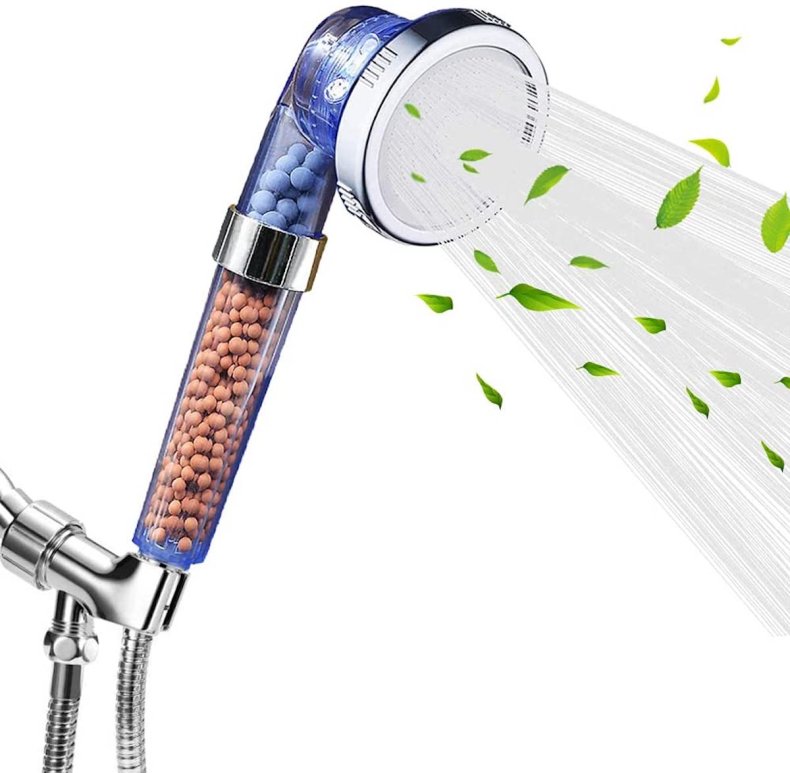 What is it with TikTok and viral showerheads?! We guess the social media platform has a lot of opinions on bathroom details. Anyway, the Luxsego Shower Head with Replacement Hose and Bracket has gained a ton of popularity on the app, with people really loving its spa-like vibes. This showerhead is unlike many others because of its alleged purifying abilities—inside, there are gray mineral balls and red mineral balls, both of which work together to filter impurities in the water and provide essential minerals to the skin.
It has more than 8,700 reviews, and one Amazon.com reviewer wrote, "With the Luxsego Ionic Shower Head, we get AMAZING pressure. I barely have the cold on and the hot is below halfway to get a great shower experience. I talked about this showerhead so much my father-in-law bought one and he too loves it. I plan to buy another one to put in my kids bathroom because it's so great. I can't say enough how amazing the showerhead is."
15. Nataliey Record Player Design Car Perfume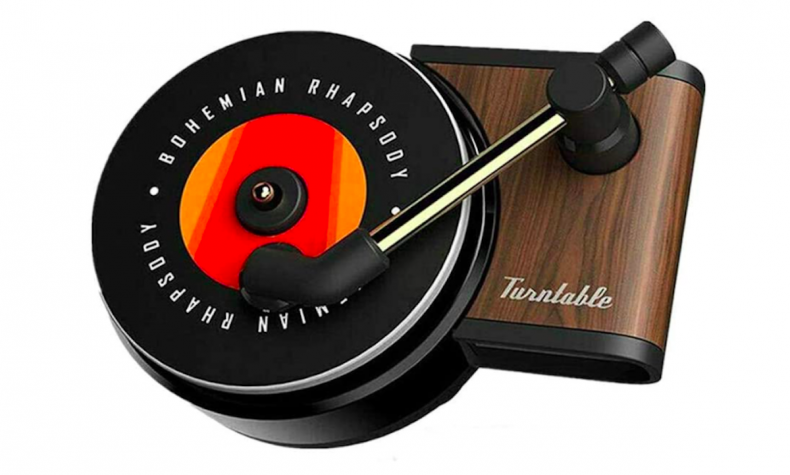 Besides being totally tiny and totally cute, the Nataliey Record Player Design Car Perfume is a funny little gadget you never knew you needed but now living without it isn't an option.
Charming, hilarious and an ideal gift for all music enthusiasts who swear that everything sounds better on vinyl, the world's smallest Victrola is actually an air freshener for your car. With a retro wood design and aromatherapy clip designed to look like a vinyl record, the Nataliey Record Player Design Car Perfume fits your vibe and mood and even comes with three different disc covers of long-lasting fragrances. Groovy!
16. Premium Innovative Defrosting Tray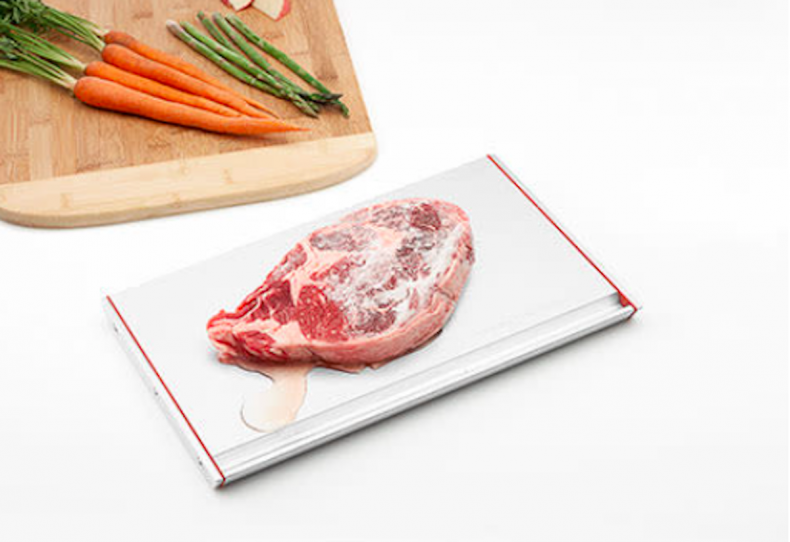 Raise your hand if you ever planned to make chicken or salmon for dinner, only to realize that you didn't take it out of the freezer to let it thaw out first. We're all guilty one time or another. In such frustrating scenarios, the Premium Innovative Defrosting Tray really comes in handy (and helps you from feeling like too much of a dunce). The perfect solution to your thawing-out troubles, it acts as a natural thermal conductor to transfer heat into your food, therefore reducing the defrost time. The best part is it also preserves the food's flavor, texture and nutrients so that you don't have to sacrifice anything!
17. Qodascooper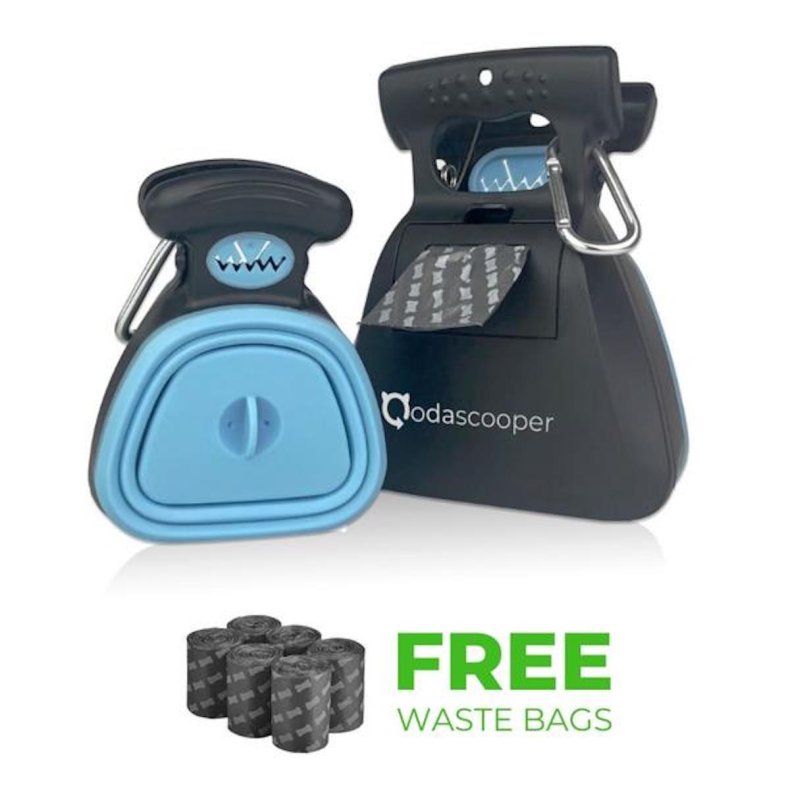 Pet parents everywhere know it's not exactly glamorous to pick up poop, but alas, it's something we simply have to do. Whether you're scooping up after your dog or cleaning out the kitty litter, pet poo is just a fact of life. But luckily, the Qodascooper makes it a smidge more glamorous—or at least, not as bad.
Now, with this handy gadget, you can scoop poop without touching it! Instead of having to turn the poop bag inside out and then—gross—grab the stool with your protected hand, the Qodascooper provides a plastic barrier between you and the poo in the shape of a clip.
18. HoverBar Duo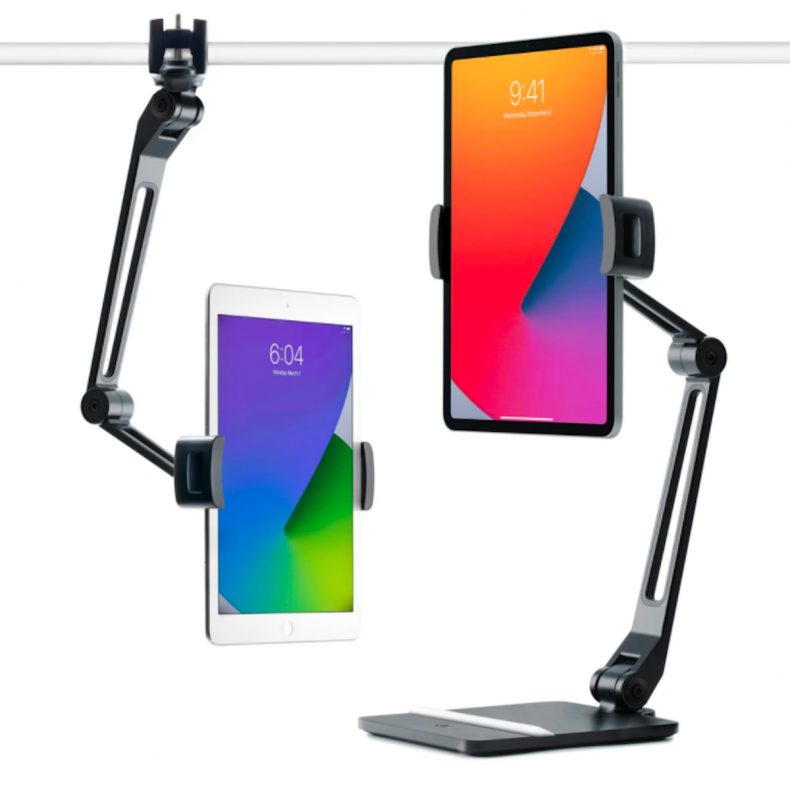 As tech neck and other device-related posture problems become more and more popular, solutions like the HoverBar Duo become more and more necessary. This easy-to-use gadget is just an adjustable, hands-free iPad or iPhone stand that allows you to "hold" your device at eye level. Ideal for Zoom calls, watching a movie, gaming or working with multiple screens, the HoverBar Duo also comes with a weighted desktop stand and desk clamp for use all around the house (or office).
19. Pocket DJ Mixer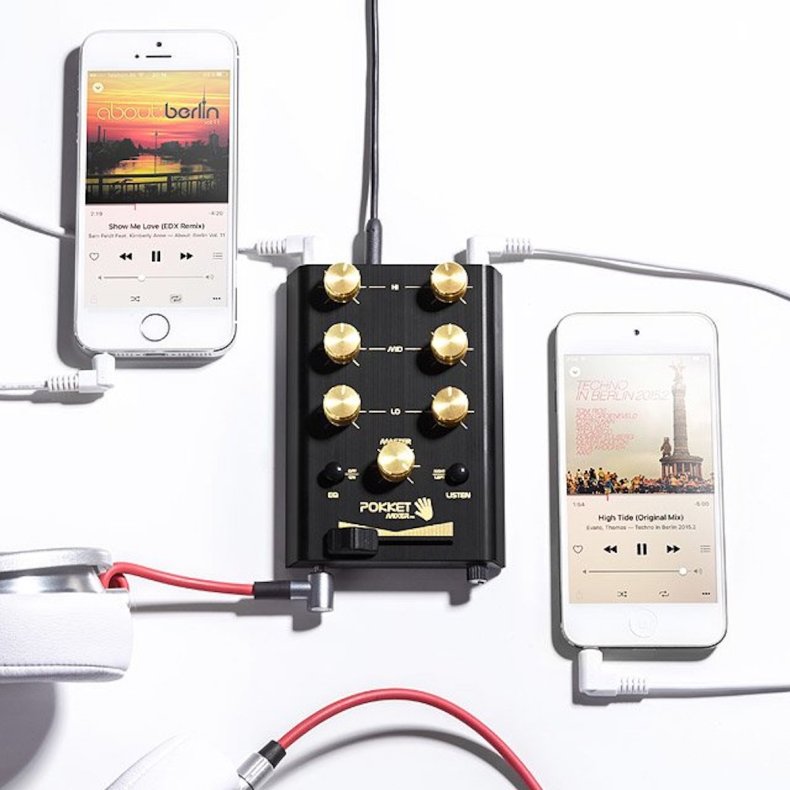 The Pocket DJ Mixer may not be for everyone, but if you're the kind of person this appeals to, we want to be your friend. Like, yesterday. Just think of all the bachelor or bachelorette parties you planned that would have been better off with a portable, wireless DJ mixer! You could have done a sick transition in between jams, and the whole limo crowd would've gone wild.
Still, it's not too late! The Pocket DJ Mixer connects to the headphone jack of your mp3 player, laptop or smartphone to up the ante. The mini mixing board works similarly to a traditional one, so as long as you know how to lay down the tunes, the music at your next mini-event will be fire.
Newsweek may earn a commission from links on this page, but we only recommend products we back. We participate in various affiliate marketing programs, which means we may get paid commissions on editorially chosen products purchased through our links to retailer sites.
AUTHOR:  STEPHANIE OSMANSKI
DATE PUBLISHED: September 26, 2021
SOURCE: Newsweek.com
PHOTO CREDIT: Newsweek.com