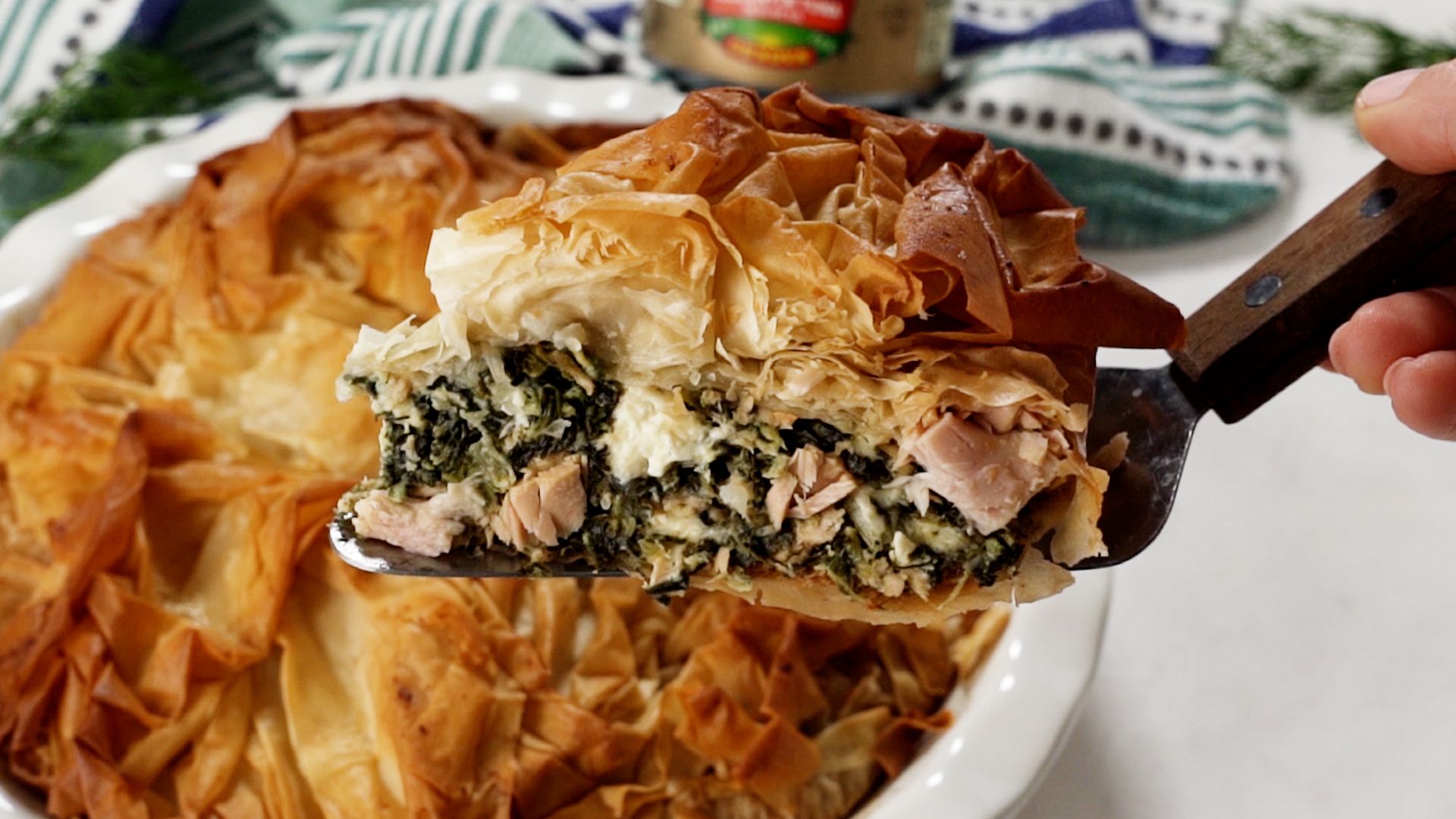 Love Spanakopita, but less fond of folding individual triangular pastries? This take on the Greek classic is the exact right recipe for you. We added rich, savory chunks of Genova Yellowfin Tuna in Olive Oil—a premium canned tuna inspired by the Mediterranean and made with the best cuts of fish—to the spinach-and-feta filling. It's a simple twist that's guaranteed to satisfy.
Tip: Don't be too precious with your phyllo. In fact, the more scrunches and wrinkles you make to the dough, the prettier it looks.
Have you tried this yet? Let us know how they came out in the comments below!
1 tbsp
unsalted butter, plus 3 tbsp. melted butter
1/2
medium yellow onion, finely chopped
30 oz. 
frozen chopped spinach, thawed and squeezed dry
3/4 c.
crumbled feta cheese, preferably sheep feta
1 tbsp.
chopped fresh dill sprigs
Freshly ground black pepper
6
(13-by-18 inch) sheets frozen phyllo dough, thawed
Preheat oven to 375°. In a large skillet, melt 1 tablespoon of the butter over medium. Add onion to skillet and cook, stirring occasionally, until softened, about 4 minutes.
Scrape the onion into a medium bowl and stir in spinach, tuna, feta, dill, eggs, salt, and pepper.
Lay 1 sheet of phyllo on a work surface and lightly brush with some of the melted butter. Lay the buttered phyllo along the bottom of a 9-inch pie dish, pressing to adhere to the dish, and leaving an overhang on all sides. Repeat with 2 more sheets of phyllo and some more of the melted butter. Spoon the spinach mixture evenly over the phyllo in the pie dish. Brush remaining 3 sheets of phyllo lightly with more of the melted butter and scrunch up to ruffle, arrange the three sheets to cover the top of the pie. If there is any remaining melted butter, brush over top of ruffled pie.
Bake until golden and cooked through, tenting with foil halfway through, to prevent top overbrowning, 50 to 55 minutes.
AUTOR: LAURA REGE
DATE PUBLISHED: JUNE 1, 2021
SOURCE: DELISH.COM
PHOTOCREDIT: DELISH.COM