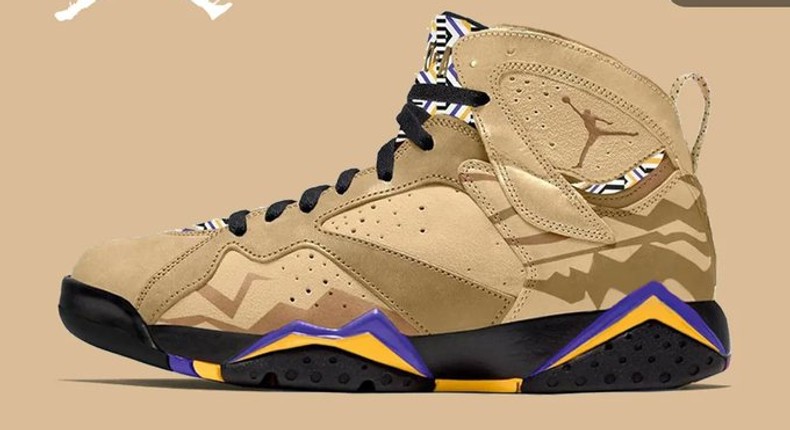 If the sound is trendy enough to bounce a design off, you shouldn't see its proponents as too small to be partnered with.
Nigeria has a sneaker culture, but it's populated by fake sneakers. In advanced climes, sneakers are a core part of pop culture. In 2019, CNBC Make It released an explainer about the success of Kanye West's Yeezy, and how it became a core part of American pop culture.
On the day of Yeezy releases, stores are so populated with queues that some of them do no other thing for the rest of the day. In the 80's, Nike Air Force made a comeback because of a small movement in Maryland. Rumour has it that Adidas Superstar is the highest selling sneakers in history. The shoes are so formidable that Adidas re-released and remodeled it a couple more times.
Since Michael Jordan changed the fortunes of Nike in the 80's, the company has gone from being a nobody in Sports, playing catch up to Adidas, to securing a $200 million with the Brazilian National Team in the mid-90's. These days, Nike is the market leader in sports. But with the global evolution of popular culture comes the quota of entertainment – in particular, music.
Movies are huge, but fashion is more pivotal to music than movies. And key to the success of fashion in music is urban culture – the key proponent behind Hip-Hop. Since the 90's alone, Hip-Hop has propelled the success of brands like Cristal, Crocs, Ciroc and more. Key to Hip-Hop is the ability to project a dream-worthy lifestyle.
That's why Hip-Hop moguls like Diddy, Jay Z, Russell Simmons, Master P and more, have been successful in the apparel business. As for Nike – or in this case, Jordans, Hip-Hop has been key to its success. In the early 2000s, Nelly literally dedicated a record to the Air Force Ones. In the mid-2000s, he made another song for the Jordans.
In every random Hip-Hop record, there are sneaker references. Thus, sneakers are a core part of – urban – pop culture. It then behooves these companies to the culturally-inclined. More so, with Kanye West, one of the greatest rappers of all time, making successful sneakers that outsell legacy brands.
But Hip-Hop's association with Jordans wasn't always reciprocated.
In December 2020, Ian Stonebrook wrote for Sole Savy thus, "Despite hip hop long loving Jordans, the investment was not always reciprocated. Even though artists like LL Cool J, Ice T, Eazy E and Will Smith wore Air Jordans dating back to the '80s, no rapper received an actual collaboration from Mike until 2005 by way of Eminem.
"The celebratory "ENCORE" Air Jordan 4 was produced following the success of the album of the same name, limited to the tune of just 50 pairs.
"Through this collaboration did not release at retail, it was a major statement from a basketball brand built off performance and prestige. Co-signing a rapper, let alone one as rebellious as Eminem, added a new edge and youth to what was otherwise becoming a legacy brand."
He continues, "Over the course of the late 2000s, Jordan Brand would build stronger bonds with rappers ranging from noted sneakerheads like Fat Joe to a former Bulls ball boy Common.
"While rappers would get blessed with PEs, retros and rarities from time to time, only two hip hop collabs would reach the public that decade with 2008's Eminem x Air Jordan 2 "The Way I Am" (limited to 313 pairs) and 2009's Air Jordan 1 High Strap "A Tribe Called Quest" released in abundance."
The 2000s were particularly pivotal for the association of sneakers and Hip-Hop, as Jay Z and 50 Cent got their own deals with Reebok.
In recent years, Adidas has partnered with Drake and Beyonce for certain apparel launches. A few years ago, Jordans collaborated with Drake and then Travis Scott for a pair of sneakers. While these companies have leveraged their cultural impact to be further immersed into pop culture, their approach has always been human-led.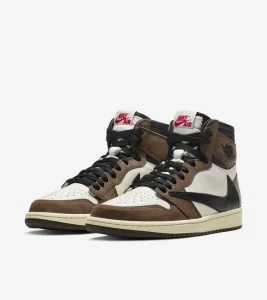 Key to this blueprint is usually the face, who is usually tasked with creating their desirable brand of sneakers. The brand – Jordans for example, can then leverage on Travis Scott's fame and fan base, to create desirable sneakers for its customers. It's why Nike doesn't just create a line of shoes for 'Trippy Trap.' Instead, it tapped Travis Scott to give the shoes some personality and fit.
It's the same way Adidas used to design Steven Gerrard's boot, instead of just designing for 'football.' The shoes are designed to suit his style of play, shooting and running style. If the company then wants to resell those shoes, people who purchase will do so because of the name behind it.
Air Jordan 7: Afrobeats
Afrobeats doesn't have a sneaker culture. Most Africans are too poor to prioritize sneakers that cost in excess of NGN150,000. However, Afrobeats continues to soar in popularity. With the success of Ckay and Wizkid in the US, Afrobeats has become another offspring of American urban culture, which is key to Hip-Hop – a primary heartbeat of sneaker culture. And in this case, Jordans.
This writer is a key proponent of not trying to control the use of 'Afrobeats' as a whole movement. It's art, which has now become a borderless product, which in itself is a huge compliment to its African origin. Thus, Nike is free to adopt something as cool and new as Afrobeats for a sneaker launch.
However, the idea of branding a shoe as 'Afrobeats,' is also a misfire. It is opportunistic and quite hilarious.
What makes an 'Afrobeats sneakers'? Nike has succeeded in creating shoes with high relatability. A story can be easily sold about some of the shoes that Nike designs around concepts and people. But in the case of Afrobeats, it's quite hilarious. Afrobeats doesn't have a premium sneaker culture. Most of us buy fakes. So designing the shoe around that is quite funny.
What does the shoe look like? It's only the first edition, so Nike can get better. The rumoured design looks inspired by the Army, rather than music. Its sole also shares striking similarities with Los Angeles Lakers colors, rather than with Afrobeats. But these issues can be clarified in future editions by looking at my third point…
Who designed it or who is its face? Putting 'Afrobeats' on a concept is vague. Instead, Nike would have been better served with creating a line of shoes around Afrobeats artists. Let's say Air Jordans 7: Afrobeats by Burna Boy or Air Jordans 7: Afrobeats by Sarkodie. This way, there is a personality and a connection. You also get greater perspective around design by collecting inputs from someone like Ronami Ogulu. It makes the idea rich. More importantly, proponents of the movement also benefit, just like Travis Scott, Beyonce and Drake have benefitted in the past. If you're jumping on the trendy nature of the sound, you shouldn't see its proponents as too small to be partnered with.
Nike has never created Air Jordans Hip-Hop or Latin Pop or Country Music. Instead of creating Air Jordans: Reggeaton, it tapped J Balvin in 2020.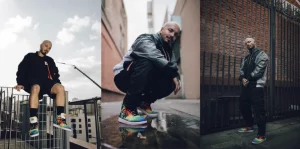 About that, Stonebrook wrote in the quoted article thus, "J Balvin, the reggaeton artist from Colombia, is embarking on new territory with his loud launch on the Air Jordan 1.
"Speaking to an entirely new audience, the Spanish singing sensation is the fourth most streamed artist in the world on Spotify – that's 26 spots ahead of Travis and even two ahead of Drake – and boasts over 45 million followers on IG – more than twice as much as Jordan Brand itself.
"While Drake mirrored MJ's top of the mountain dominance and Travis parallels the GOAT's abundant energy and mainstream marketability, J Balvin may be most like Mike when it comes to global appeal."
Why is Jordan suddenly creating Air Jordans Afrobeats?
It feels like a desperate move, premised upon a fantastic idea. But it could have been executed better.
Again, we can't stop Nike from using a fast-rising genre, deeply ingrained in urban music culture like Afrobeats. But its execution leaves a bad taste in the mouth.
Granted, Nigeria or Africa as a whole, isn't a healthy market for Nike to launch Jordans. So it would be weird to ask them to design their shoes in a way that could be suited for Africa. But it's getting a little tiring to see people create things for themselves, while claiming that they are celebrating the culture, when no proponent of the culture benefits.
It's not unlike Beyonce releasing a video to celebrate Africa on Disney Plus, when 95% of Africa can't even watch it. It's still early days and mistakes will be made with these things. But these articles aim to help these companies fine tune their models.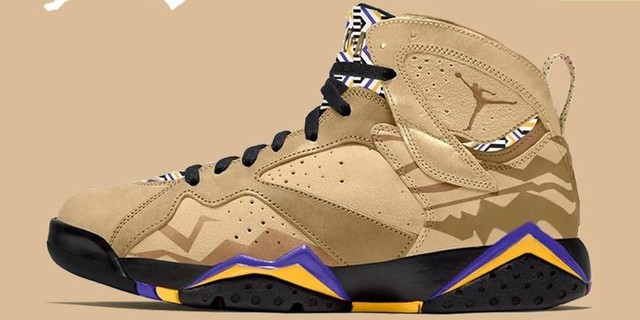 AUTHOR: MOTOLANI ALAKE
DATE PUBLISHED: January 21, 2022
SOURCE: Pulse.ng
PHOTOCREDIT: Pulse.ng