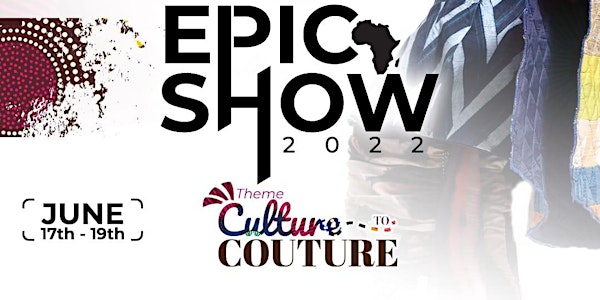 Fashions Finest Africa Epic Show would be taking place from the 17th to 19th June at the Balmoral Convention Centre at Federal Palace Hotel
About this event
Fashions Finest Africa Fashion Week would be taking place from the 17th to 19th June 2022 at the Balmoral Convention Centre at Federal Palace Hotel and it would feature young, new, aspiring and emerging designers, showcasing their very best designs on the runway, there would be interactive sessions on various areas of the fashion industry, good music and exhibition stands.
The annual event will feature more talent and more opportunities for everyone in the fashion industry and will be a fantastic platform for every young designer out of Africa.
Our mission is to provide them with information, market intelligence, networking platforms and opportunities to meet, interact, learn from and collaborate with global industry leaders and players.
Are you looking for amazing deals, do you want to shop till you drop, then there is only one place to be and that's Fashions Finest Africa Epic Show 2022.
Come down to 'Shop Everything Fashion' at this year's Epic show from 17th to 18th June 2022.
So what are you waiting for, ATTENDANCE IS FREE but you must register here for the fashion shows.
Date and time
Fri, 17 Jun 2022, 09:00 –
Sat, 18 Jun 2022, 23:55 WAT
Location
Federal Palace Hotel & Casino
6-8 Ahmadu Bello Way
Lagos, LA 101241