I had a craving for a grilled eggplant sandwich the other day but 1) I don't have a grill and 2) that sounded like a lot of work, so I made this quick skillet version instead. The resulting Eggplant Mozzarella Sandwiches are a "meaty" combo of sautéed eggplant drenched with marinara sauce, piled high onto a garlic butter toasted bun, then topped off with melty mozzarella cheese. YES PLEASE.
WHAT TO SERVE WITH EGGPLANT MOZZARELLA SANDWICHES
These eggplant sandwiches are pretty filling, so I would pair them with something super simple, like a very basic side salad to kind of lighten up the plate. Or, if you want something more vegetable-packed, they would be awesome with Marinated Cauliflower Salad, Roasted Asparagus and Tomatoes, Garlic Parmesan Roasted Cauliflower, or Simple Sautéed Vegetables.
SANDWICH SIZES AND SERVINGS
This recipe makes about 3-4 sandwiches, depending on the size of your eggplant and the size of your rolls or buns. I used hoagie buns that were about 6 inches in length and an eggplant that was about 8-inches long and I was able to make three large sandwiches. If you were to use round rolls, you'd probably get four piled-high sandwiches.
HOW TO STORE LEFTOVERS
These sandwiches definitely need to be consumed right when they're assembled, so if you're in a smaller household that won't be eating all three or four sandwiches at once, make sure to store the components separately. Keep the sautéed eggplant with red sauce in its own container and reheat either in a skillet or in the microwave. Butter and toast your bread just before assembly, then add the eggplant and cheese, and briefly heat to melt the cheese.
MOZZARELLA OPTIONS
I used fresh mozzarella because it melts so beautifully and I can get it for a decent price. If fresh mozzarella is not available or not available at a reasonable price, you can use shredded mozzarella instead. Full-fat mozzarella will always melt better than part-skim, but part-skim will work in a pinch.
HOW TO MAKE EGGPLANT MOZZARELLA SANDWICHES – STEP BY STEP PHOTOS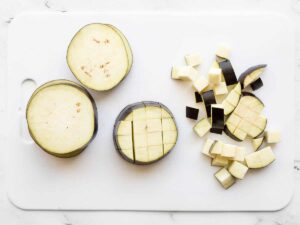 Cube one eggplant into 1/2-inch cubes. Mince two cloves of garlic.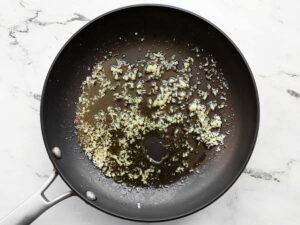 Add 2 Tbsp olive oil to a large skillet and heat over medium. Add the minced garlic and sauté for 1-2 minutes.
Add the cubed eggplant and 1 tsp Italian seasoning. Continue to sauté until the eggplant is soft (5-7 minutes).
Once the eggplant is soft, add 1 cup marinara sauce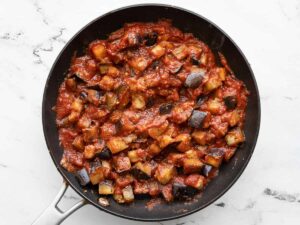 Stir to combine the eggplant and sauce, then heat through. Taste and season with salt (about ½ tsp).
Preheat the broiler on your oven and make sure the oven's rack is in the middle position. Place your buns or rolls on a baking sheet, cut side up. Combine the remaining 2 Tbsp olive oil, 1 Tbsp butter, and ¼ tsp garlic powder. Microwave for 15-30 seconds, or until melted, then stir to combine. Brush the butter and oil mixture over the cut surface of the rolls.
Toast the rolls under the broiler for about 5 minutes, or until they are barely golden brown. Watch them closely, as broilers can vary quite a bit. Once toasted, switch the oven's setting from broil to bake (350ºF). Spoon the eggplant mixture onto the rolls.
AUTHOR: BETH
DATE PUBLISHED: 2/8/2020
SOURCE: BUDGETBYTES
PHOTOCREDIT: BUDGETBYTES