Alfred Olusegun Fayemi passion for Africa! For the past three and a half decades Alfred did documentary photography of 20 countries in sub-Sahara Africa. Olusegun photographs have been published in magazines, newspapers, and books. They have also been the source of Olusegun three books of photography: Balancing Acts: Photographs from West Africa (1992), Voices from Within: photographs of African Children (1999) and Windows to the Soul: Photographs Celebrating African Women (2003).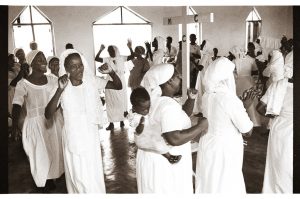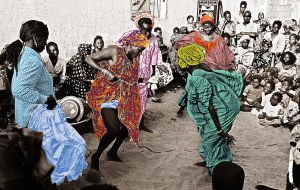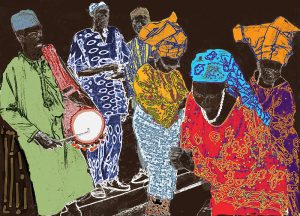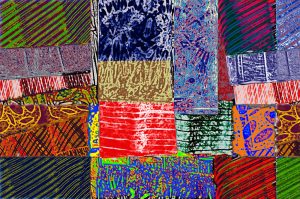 Olusegun  photographs articulate the realities of contemporary Africa and they traverse a wide spectrum in the rhythm of the daily lives of Africans: from the resplendent attire of African women in Djenne (Mali) market to the teeming thousands of people at Oshodi (Nigeria) market; from the sombre atmosphere of the subterranean churches at Lalibela (Ethiopia) to women dressed in brilliantly coloured aso ebi dancing to popular praise songs in an Anglican church at Abeokuta (Nigeria); from children playing with home-made toys to crowded classrooms across the continent; from pounding yam in Accra (Ghana) to grinding grain in Ougadougou (Burkina Faso); from street minstrels and itinerant musicians at Ido Ekiti (Nigeria) to street and open air dancing parties in Dakar (Senegal). While many of these images are universal, others are distinctively African in content and flavour, revealing timeless narratives of how Africans live and the nuances that shape those lives.
Olusegun's present body of work (Fine Art Digital Painting) originates from black and white negatives, less so from colour digital files. They are transformed through unique digital processes to colourful and luminous representation of the drama of contemporary life and experience in Africa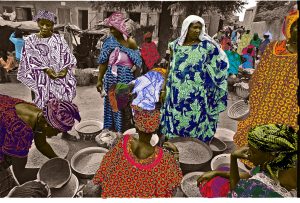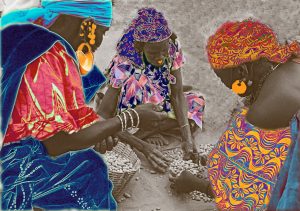 The digital process permits me the creative use of colours, special techniques and a personal interpretation that introduces elements of Olusegun style, visual poetry, and dynamism to the pictures. These images go beyond the documentary: the transformation imbues them with energy, vigour and vibrancy elevating them to new dimensions and a magnificent level of beauty.
More recently these works have evolved to mixed media collage using primarily fabrics and less frequently, decorated paper and acrylic paint. I draw inspiration from the Olusegun riad texture, patterns, and suffusion of colours characteristic of African clothing. These images are treated with passion and respect taking into consideration the traditional milieu from where the subjects are drawn. Each finished work is unique in its content, emotional intensity, composition, and expressiveness
Visit http://www.fayemiphotography.com